The Art and Practice of Leadership Coaching: 50 Top Executive Coaches Reveal Their Secrets
ISBN: 978-0-471-70546-8
304 pages
December 2004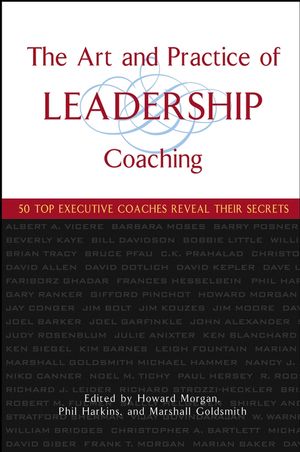 Leadership coaching has become vitally important to today?s most successful businesses. The Art and Practice of Leadership Coaching is a landmark resource that presents a variety of perspectives and best practices from today?s top executive coaches. It provides valuable guidance on exactly what the best coaches are now doing to get the most out of leaders, for now and into the future. Revealing core philosophies, critical capabilities, and the secrets of coaching success, this one-of-a-kind guide includes essays from fifty top coaches, including Ken Blanchard and Frances Hesselbein. Packed with cutting-edge ideas and proven best practices, this is the definitive source of information for anyone dealing with coaching.
See More
Acknowledgments.
About the Editors.
Research Sponsor: Linkage, Inc.
Research Partner: Hewitt Associates.
1. The Coaching Landscape, by Linkage, Inc.
PART I: WORKING WITH COACHES.
2. Selecting the Right Coach.
3. Creating a Powerful Coach-Coachee Partnership.
PART II: 50 TOP EXECUTIVE COACHES.
4. Coaching Leaders/Behavioral Coaching.
Marshall Goldsmith.
Jim Kouzes.
Frances Hesselbein.
Jay Conger.
Dave Ulrich.
Barry Posner.
Howard Morgan.
Ken Siegel.
Bobbie Little.
Kim Barnes.
5. Career/Life Coaching.
Richard J. Leider.
William Bridges.
Beverly Kaye.
David Allen.
Barbara Moses.
Brian Tracy.
Shirley Anderson.
Joel Garfinkle.
Richard Strozzi-Heckler.
Marian Baker.
6. Coaching for Leadership Development.
Noel M. Tichy.
Robert M. Fulmer.
Ken Blanchard.
Paul Hersey.
Nancy J. Adler.
Albert A. Vicere.
John Alexander.
Jim Bolt.
David Giber.
Jim Moore.
7. Coaching for Organizational Change.
Phil Harkins.
W. Warner Burke.
Sally Helgesen.
R. Roosevelt Thomas Jr.
Gifford Pinchot.
David Dotlich.
Stratford Sherman.
Gary Ranker.
Leigh Fountain.
Bruce Pfau.
8. Strategy Coaching.
C. K. Prahalad.
Vijay Govindarajan.
Christopher A. Bartlett.
Fariborz Ghadar.
Michael Hammer.
Joel Barker.
Niko Canner.
Julie Anixter.
Bill Davidson.
Judy Rosenblum.
PART III: INTERNAL COACHING.
9. Applying the Behavioral Coaching Model Organization-Wide.
10. The Leader as Coach.
David Kepler and Frank T. Morgan.
PART IV: THE COACHING ALMANAC.
11 Is Coaching Worth the Money? Assessing the ROI of Executive Coaching.
12 Interpretative Data: What's Shaping the Coaching Marketplace.
Notes.
Index.
See More
HOWARD MORGAN is Managing Director of the Leadership Research Institute and is recognized globally as a top executive coach and leadership development expert.
PHIL HARKINS is President and CEO of Linkage, Inc., an international leadership and organizational development company. He is also an acknowledged expert and frequent author on the subjects of leadership, communication, and coaching.
MARSHALL GOLDSMITH is a world authority on helping successful leaders achieve positive, measurable change in behavior. He is the author or editor of eighteen books, including the bestselling The Leader of the Future.
See More