Managing Lease Portfolios: How to Increase Return and Control Risk
ISBN: 978-0-471-70630-4
206 pages
October 2005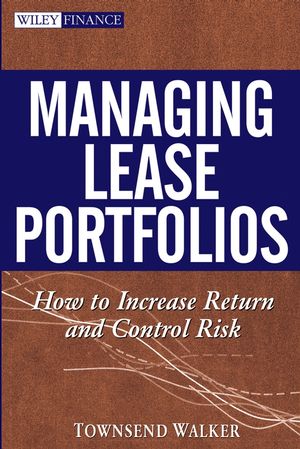 Leasing is one of today's more complex forms of financing, and, unless you have extensive experience in this arena, making informed decisions can be difficult. Over the life of a lease, its risks and returns change, and the factors that affect the risks and returns also change.
In Managing Lease Portfolios, Townsend Walker, an expert in this field, explains how to evaluate the risk of lease portfolios as well as hedge their long-term, non-traded risks. Here, you'll learn how to apply various financial tools to your portfolio of leases and discover the work that goes into each step—such as measuring the risks of a lease, calculating the returns, and estimating the effects of diversification. Many of the ideas and concepts found within this comprehensive resource have existed for a number of years in the fields of foreign exchange, interest rate and credit derivatives, and the bond and stock markets. This book adapts and applies these concepts to managing leases. Then it illustrates how you can implement these new concepts through concrete models that have been proven to work in the real world.
See More
Preface.
CHAPTER 1: What a Lease Looks Like.
Reasons to Lease Rather than Buy.
Characteristics of a Lease.
How a Lease Works.
Why Leasing Is Different.
Attractions of a Lease to a Lessor.
Setting the Rent on a Lease.
Different Kinds of Leases.
Leases as a Set of Cash Flows.
Contributions of Rent, Equipment, and Taxes.
Differences between a Leveraged Lease and a Single Investor Lease.
Factors That Contribute to Lease Value.
Your Lease Portfolio.
CHAPTER 2: Equipment Risk.
Factors Affecting Future Equipment Values.
Principles for Estimating Equipment Values.
Distribution.
Sources of Information.
Extreme Events.
Frequency of Purchase at Lease End.
Bases for Measuring Equipment Risk.
Estimating Future Equipment Values.
Decay Curve and Volatility Valuation Model.
Statistical Valuation Model.
Behavioral Valuation Mode.5
Factor Valuation Model.
Data.
Appendix—Distributions.
CHAPTER 3: Credit Risk.
Probability of Default.
Historical Data.
Models.
Business Cycles.
Observations.
Migration.
Conclusions.
Default and Migration Model.
Regimes.
Recovery.
Contractual Claims.
Model Results.
CHAPTER 4: A Tool for Risk Pricing Leases.
Default or No Default.
Cure or Bankruptcy.
Reaffirmation or Workout.
Estimated Loss.
Inputs to the Risk Pricing Tool.
Outputs of the Risk Pricing Tool.
Reserves and Capital.
Return.
CHAPTER 5: Tax Risk.
Model of Tax Rate Change.
Results of the Tax Model.
CHAPTER 6: Options in a Lease.
Types of Options.
Early Buyout Option.
Purchase Option.
Renewal Option.
Value of a Purchase Option.
Value of an Early Buyout Option.
Interest Rate Model.
EBO Valuation Model.
CHAPTER 7: Lease Returns.
Separating the Returns.
Calculating the Risks.
To Sell or Hold.
To Hold.
Or to Sell.
Accounting.
Appendix—Lease Cash Flows.
CHAPTER 8: Diversification.
Types of Diversification.
Correlation.
Depiction of Correlation and Diversification.
Equations for Correlation and Portfolio Diversification.
Estimating Correlation Coefficients for Credit.
Estimating Correlation Coefficients for Equipment.
Once Diversified, Always Diversified?
Probability of Default and Equipment Values.
Appendix—Statistics Definitions.
Covariance.
Standard Deviation.
Bivariate Normal Distribution.
Inverse Normal Distribution.
CHAPTER 9: Factor Analysis.
Organizing the Analysis.
Example of the Analysis on Your Portfolio.
Extensions of Basic Factor Analysis.
Benefits.
Appendix—Factors, Prices, and Sources.
CHAPTER 10: Portfolio Risk and Return.
Portfolio Theory.
How Much Risk.
Contribution of the New Lease.
Effect of Lumpiness.
An Efficient Portfolio Today and Tomorrow.
CHAPTER 11: Hedging a Leasing Portfolio.
Credit Risk.
Credit Default Swaps.
Factor Hedges.
Equipment Risk.
Selling the Equipment for Future Delivery.
Selling the Right to Buy the Equipment.
Remarketing Agreements.
Buying Residual Value Insurance.
CHAPTER 12: Portfolio Management in a Leasing Company.
Business Model.
Key Concepts.
Functions.
Risk-Adjusted Returns.
Organization.
Analytical Tools.
Integrated Portfolio Management.
Lessons Learned.
Origination and Buying Guidelines.
Equipment Guidelines.
Early Warning Systems.
Examples of Integrated Portfolio Management.
Measuring Performance.
Notes.
Bibliography.
Index.
See More
TOWNSEND WALKER is a partner of APERIMUS, a firm focused on identifying the sources of risk in leasing portfolios and devising structures to control those risks. He specializes in providing lessors with sophisticated modeling and structuring services, including comprehensive portfolio analysis, capital allocation, risk assessment, derivative structuring, and more. Most recently, Walker was a managing director at Banc of America Leasing & Capital Group, where he developed a portfolio model for leases and a lease valuation model. Walker received a PhD in economics from Stanford, an MA in economics from NYU, and a BS in foreign service from Georgetown University. He is also the author of A Guide for Using the Foreign Exchange Market (published by Wiley) and Managing Risk with Derivatives.
See More