Fine Particle (2.5 microns) Emissions: Regulations, Measurement, and Control
ISBN: 978-0-471-70963-3
266 pages
September 2008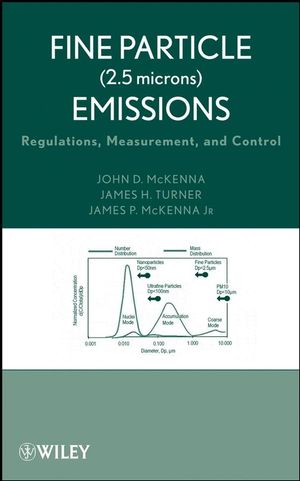 Research has shown that inhaling fine particles is a greater health risk than breathing larger particles. Title is "very timely...needed NOW," according to one reviewer
Covers a "controversial" but important topic, for which there is a lack of literature and hence guidance for those professionals affected by it
Covers legislative background and gives insight into regulatory and technical matters such as measurement and control of fine particle emissions
Combines the practical, theoretical, and regulatory areas of fine particulate monitoring, with "reference to the regulated community"
Written by a recognized authority with over 30 years of pollution control experience
See More
1. INTRODUCTION.
1.1 Overview of Particulate Matter (PM) Control.
1.2 PM.
1.3 PM10.
1.4 PM2.5.
1.5 The Scientific Basis for Ambient Air Quality Standards.
1.6 Primary Standards vs. Secondary Standards.
1.8 Who Is Most at Risk?
1.9 Current Legislation.
1.10 References.
2. HEALTH EFFECTS.
2.1 Results of Recent Studies.
2.2 EPA Position on Certain Health Effects.
2.3 References.
3. AIR MONITORING.
3.1 Ambient Air Monitoring Methods.
3.2 Emission Measurement Methods.
4. EMISSION CONTROL METHODS.
4.1 Fabric/Filter/Baghouses.
4.2 Electrostatic Precipitators.
4.3 Wet Scrubbers.
4.4 Environmental Technology Verification and baghouse Filtration Products.
4.5 Cost Considerations.
5. NANOPARTICULATES.
5.1 What Is a Nanoparticle?
5.2 What Is Nanotechnology?
5.3 What Is Nanotoxicology?
5.4 Health Concerns/Issues.
5.5 Ongoing Research.
5.6 Current Organizations/Research.
5.7 Diesel Nanoparticulate Matter.
5.8 Nanofilters/Nanotechnology in the Fabric Filter Industry.
5.9 Additional Research Concerning Nanofiber Filtration.
5.10 References.
Index.
See More
John D. McKenna,
PhD, is the President and CEO of ETS, Inc. He has more than thirty years of experience working in the field of pollution control, including managing a broad range of air and water pollution control applications.
James H. Turner, PhD, PE, is a chemical engineer with forty years of technical experience. The bulk of his career has been spent working with particles, particle control (especially fabric filtration), and control system costing, primarily as part of the regulatory process.
James P. McKenna Jr., BS, graduated from Manhattan College with a degree in chemical engineering. He has spent nearly a decade designing air pollution control equipment as well as performing field-testing of stack emissions.
See More