Nonprofit Law Made Easy
ISBN: 978-0-471-70973-2
288 pages
April 2005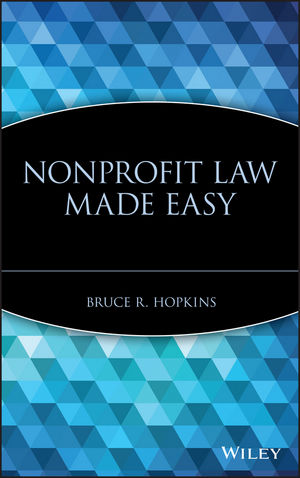 The ins and outs of law in the nonprofit sector--made easy!

Written by renowned author Bruce R. Hopkins, Nonprofit Law Made Easy is a must-read guide for executives, board members, officers, accountants, fundraisers, and others who handle legal issues that affect the way nonprofit organizations are formed and operated.

Nonprofit Law Made Easy presents in-depth discussions on such hot topics as acquiring and maintaining tax-exempt status, reporting requirements, charitable giving, disclosure requirements, unrelated business activities, fundraising, corporate governance principles, and board member liability. It also includes crucial information on avoiding nonprofit law traps and navigating governance and liability issues.

Packed with practical tips and hard-to-find, authoritative advice, Nonprofit Law Made Easy demystifies complex legal issues with plain-language explanations of laws and regulations for non-legal professionals.
See More
Preface.
Chapter 1 Forming a Nonprofit Organization.
A Philosophical Framework.
Defining Nonprofit Organization.
Purpose of Organization.
Location of Organization.
Selection of Organization Form.
Name of Organization.
Composition of Governing Body.
Officers and Key Employees.
Management Companies.
Minutes.
Other Documents.
Summary.
Chapter 2 Acquiring and Maintaining Tax-Exempt Status.
Concept of Tax Exemption.
Eligibility for Tax-Exempt Status.
Recognition of Tax-Exempt Status.
Categories of Tax-Exempt Organizations.
Selection of Appropriate Category.
Application Process.
Timing.
Exceptions.
Notice Requirements for Political Organizations.
Preparation of Applications.
Reliance on Determination.
Maintenance of Exempt Status.
Changes in Organizational Form.
Material Changes.
Group Exemption.
Summary.
Chapter 3 Public Charities and Private Foundations.
Defining Private Foundation.
Defining Public Charity.
What Difference Does It Make?
Disqualified Persons.
Determining Public Support—Tricks of the Trade.
Focus on Supporting Organizations.
Hybrid Foundations.
Rules for New Organizations.
Private Foundation Rules.
Termination of Status.
Donor-Advised Funds.
Summary.
Chapter 4 Reporting Requirements.
Federal Law Basics.
A Multitude of Forms.
Form 990 Glossary.
Annual Information Return—A Law Perspective.
Law Perspective on Preparation of Returns.
State Law Requirements.
Watchdog Agencies.
Summary.
Chapter 5 Charitable Giving.
Basic Concepts.
Defining Charitable Gift.
Qualified Donees.
Gifts of Property.
Limitations on Deductibility.
Deduction Reduction Rules.
Twice-Basis Deductions.
Contributions of Vehicles.
Contributions of Intellectual Property.
Partial Interest Gifts.
Gifts of Insurance.
Planned Giving.
Summary.
Chapter 6 Disclosure Requirements.
Applications for Recognition of Exemption.
Annual Information Returns.
Gift Substantiation Requirements.
Quid Pro Quo Contributions.
Disclosure by Noncharitable Organizations.
Disclosure of Gifts of Property.
Dispositions of Contributed Property.
Appraisal Requirements.
Offering of Information or Services.
Tax Shelters.
Summary.
Chapter 7 Unrelated Business Activities.
Statutory Framework.
Affected Tax-Exempt Organizations.
Conduct of Business.
Regularly Carried-On Businesses.
Related or Unrelated?
Unrelated Business Taxable Income.
Exempted Activities.
Exempted Income.
Exceptions to Exceptions.
Corporate Sponsorships.
Internet Activities.
Commerciality Doctrine.
Summary.
Chapter 8 Fundraising Regulation.
State Regulation of Fundraising.
State Charitable Solicitation Acts.
States' Police Power.
Constitutional Law Considerations.
Federal Regulation of Fundraising.
Fundraising by Means of the Internet.
Summary.
Chapter 9 Building on the Basics.
Fundamentals of Bifurcation.
Definition of Subsidiary.
Determining Need for Subsidiary.
Legal Form of Subsidiary.
Tax-Exempt Subsidiaries.
For-Profit Subsidiaries.
Tax Treatment of Revenue from Subsidiary.
Partnerships and Joint Venture Basics.
Flow-Through Entities.
Public Charities as General Partners.
Subsidiaries in Partnerships.
Whole Entity Joint Ventures.
Ancillary Joint Ventures.
Limited Liability Companies.
Summary.
Chapter 10 Nonprofit Law Traps.
Primary Purpose Rule.
Private Inurement.
Private Benefit.
Intermediate Sanctions.
Legislative Activities.
Political Activities.
Summary.
Chapter 11 Still More Law.
Constitutional Law.
Postal Laws.
Federal Election Laws.
Securities Laws.
Antitrust Laws.
Management of Institutional Funds Act.
Other Laws.
Summary.
Chapter 12 Governance Principles and Liability.
Basics of Corporate Governance Principles.
Emerging Concepts.
Board Member Responsibilities.
Lawsuits against Nonprofit Organizations.
Individuals as Defendants.
Protection against Personal Liability.
Management Companies Revisited.
Watchdog Agencies.
Summary.
Index
See More
Bruce R. Hopkins
is a lawyer in Kansas City, Missouri, with the firm of Polsinelli Shalton Welte Suelthaus PC, having practiced law in Washington, D.C., for 26 years. He specializes in the representation of tax-exempt organizations. His practice ranges over the entirety of tax matters involving exempt organizations, with emphasis on the formation of nonprofit organizations, acquisition of recognition of tax-exempt status for them, the private inurement and private benefit doctrines, the intermediate sanctions rules, legislative and political campaign activities issues, public charity and private foundation rules, unrelated business planning, use of exempt and for-profit subsidiaries, joint venture planning, review of annual information returns, Internet communications developments, the law of charitable giving (including planned giving), and fundraising law issues.
Mr. Hopkins served as chair of the Committee on Exempt Organizations, Tax Section, American Bar Association; chair, Section of Taxation, National Association of College and University Attorneys; and president, Planned Giving Study Group of Greater Washington, D.C. He was accorded the Assistant Commissioner's (IRS) Award in 1984.
Mr. Hopkins is the series editor of Wiley's Nonprofit Law, Finance, and Management Series. In addition to Nonprofit Law Made Easy, he is the author of The Law of Tax-Exempt Organizations, Eighth Edition; The Tax Law of Charitable Giving, Third Edition; The Law of Fundraising, Third Edition; 650 Essential Nonprofit Law Questions Answered; The Nonprofits' Guide to Internet Communications Law; The Law of Intermediate Sanctions: A Guide for Nonprofits; The First Legal Answer Book for Fund-Raisers; The Second Legal Answer Book for Fund-Raisers; The Legal Answer Book for Nonprofit Organizations; The Second Legal Answer Book for Nonprofit Organizations; The Nonprofit Law Dictionary; and Starting and Managing a Nonprofit Organization: A Legal Guide, Fourth Edition.
In addition, Mr. Hopkins is the co-author, with Jody Blazek, of Private Foundations: Tax Law and Compliance, Second Edition; also with Ms. Blazek, The Legal Answer Book for Private Foundations; and with Thomas K. Hyatt, The Law of Tax-Exempt Healthcare Organizations, Second Edition. He also writes Bruce R. Hopkins' Nonprofit Counsel, a monthly newsletter, published by John Wiley & Sons, Inc.
Mr. Hopkins earned his J.D. and L.L.M. degrees at the George Washington University and his B.A. at the University of Michigan. He is a member of the bars of the District of Columbia and the state of Missouri.
See More