How to Make Money Selling Stocks Short
ISBN: 978-0-471-71049-3
208 pages
December 2004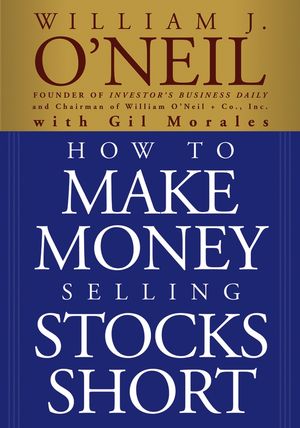 There are two sides to everything, except the stock market. In the stock market there is only one side--the right side. In certain market conditions, selling short can put you on the right side, but it takes real knowledge and market know-how as well as a lot of courage to assume a short position.

The mechanics of short selling are relatively simple, yet virtually no one, including most professionals, knows how to sell short correctly. In How to Make Money Selling Stocks Short, William J. O'Neil offers you the information needed to pursue an effective short selling strategy, and shows you--with detailed, annotated charts--how to make the moves that will ultimately take you in the right direction.

From learning how to set price limits to timing your short sales, the simple and timeless advice found within these pages will keep you focused on the task at hand and let you trade with the utmost confidence.
See More
Foreword.
PART 1. How and When to Sell Stocks Short.
Selling Short.
Sell Short in the Correct Market Environment.
What Goes Up Must Come Down.
How to Use the General market Averages.
What to Do with a Rally.
How Cycles Occur.
Examples of Failure-prone Bases.
Watch the Stocks as Well as the Market.
What to Sell Short.
Common Sense Should Prevail.
Examples of Climax Tops.
What Not to Sell Short.
Timing Your Short Sales.
Examples of 50-Day Moving Average Breaks.
Overhead Supply.
Examples of Overhead Supply.
Examples of Head & Shoulders Tops.
How to Set a Price Limit.
When to Buy Back and Cover Your Short Sale.
Don't Run with the Crowd.
Puts and Calls.
Short Interest Reporting.
Risk is Always Present.
Short Selling Checklist.
PART 2. the Anatomy of a Short Sale.
PART 3. Models of Greatest Short Sales.
Cisco Systems, Inc.
Lucent Technologies, inc.
Calpine Corp.
Yahoo!, Inc.
Broadcom Corp.
Certain-Teed Products Corp.
Loews Corp.
Redman Industries, Inc. & Skyline Corp.
C-Cube Microsystems, Inc.
Additional Models of Greatest Short Sales.
Index.
See More
WILLIAM J. O'NEIL has distinguished himself as a champion of the individual investor by providing them with innovative, sound, and effective tools and methods necessary for investment success. His investment books, including the bestselling How to Make Money in Stocks and The Successful Investor, outline in detail the CAN SLIM investment research tools that enabled Mr. O'Neil to buy his own seat on the New York Stock Exchange in 1963 and start his own institutional investment firm, William O'Neil + Co., Incorporated, which today services over 500 institutional investment organizations. The publication he designed and created in 1984, Investor's Business Daily, brings sophisticated stock market data to the investing masses on a daily basis, and its Web site, investors.com, informs and educates individual investors on the basic principles of sound investing.
GIL MORALES, a 1981 graduate of Stanford University, began his career in the industry as a stockbroker with Merrill Lynch in 1991. He later moved to PaineWebber in 1994 where he quickly became one of that firm's top producers, and was recruited to join William O'Neil + Co., Inc. in 1997 by William J. O'Neil himself. He currently serves as Vice President and Chief Market Strategist at William O'Neil + Co., Inc. where he also functions as an internal portfolio manager responsible for managing a portion of the firm's equity assets.
See More
Learn more about