The Boston Institute of Finance Stockbroker Course: Series 7 and 63 Test Prep + CD
ISBN: 978-0-471-71235-0
368 pages
May 2005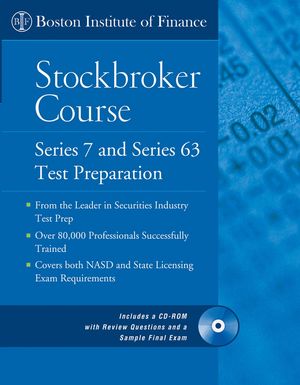 Get the all-in-one product that provides preparation information for the two tests necessary to sell stocks: the Series 7 and Series 63 exams.
The Boston Institute of Finance Stockbroker Course combines the industry?s premier print study guide with access to the industry?s premier online test-prep materials. This unique course has become one of the best products available for exam preparation by providing the core knowledge needed to pass. The study guide chapters parallel the content of the exams, each chapter includes review questions, and the companion CD-ROM features a sample final exam and tips that will sharpen your skills even further. If you're looking to pass both the Series 7 and Series 63 exams, this is the only guide you will need.
See More
Chapter 1. Corporate Securities.
Chapter 2. Financial Analysis.
Chapter 3. Investing Banking.
Chapter 4. Municipal Securities.
Chapter 5. U.S. Government Securities.
Chapter 6. Over-the-Counter Markets.
Chapter 7. NASD Regulations.
Chapter 8. Exchange Markets.
Chapter 9. Exchange Regulations.
Chapter 10. Client Accounts.
Chapter 11. Margin Accounts.
Chapter 12. Options.
Chapter 13. Economic, Monetary and International Factors.
Chapter 14. Risks and Policies.
Chapter 15. Securities Taxation.
Chapter 16. Investment Companies.
Chapter 17. Individual Retirement Plans.
Chapter 18. Federal and State Regulations.
Chapter 19. Direct Participation Plans.
See More
The BOSTON INSTITUTE OF FINANCE (BIF) (www.Bostonifi.com) develops and distributes multimedia and interactive learning solutions for professionals in the financial services industry. BIF possesses the largest digital repository of training material in the industry and manages the certification and training programs of thousands of corporate and individual learners in the United States and around the world.
See More