Textbook
The Architecture of Computer Hardware and System Software: An Information Technology Approach, 4th Edition
ISBN: 978-0-471-71542-9
704 pages
May 2009, ©2009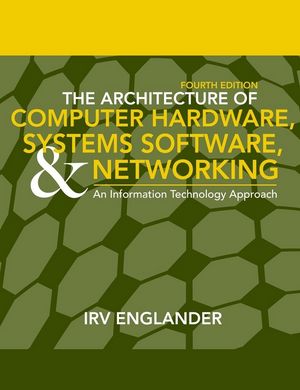 This newly revised text provides a gentle approach to introduce MIS students to fundamental computer hardware, systems software, and data concepts. As in previous editions, the goal of this book is to provide the fundamentals of computer architecture which are essential to the workplace survival of Information Systems graduates. This text provides a careful, in depth, non-engineering introduction to the inner workings of modern computer systems. New advances have been built into the new edition in the areas of operating system design and computer interconnection.
See More
1) Introduction
2) Number systems
3) Data formats
4) Integer and real numbers
5) Integer and real numbers
6) Little Man Computer
7) CPU architecture
8) CPU and Memory: Design, Implementation, Enhancement
9) Input/Output
10) Input/Output Devices
11) Modern CPU Systems, Clusters, and Networks
12) Three HW Examples
13) User and Programming Interfaces
14) Operating Systems Concepts
15) More Operating Systems Concepts
16) File Concepts
17) Programming Tools
18) Three SW Examples
Supplementary Ch. 1: Intro to Digital Computer Logic
Supplementary Ch. 2: Instruction Addressing Modes
Supplementary Ch. 3: Communication Channel Technology
See More
All chapters and examples have been thoroughly updated to reflect current technology
New emphasis on communications and networking
Chapter 1 has been completely revised to discuss the concept of a system
Discussion of buses is expanded in newly titled Chapter 11, "Computer System Architecture"
See More
Provides students with an understanding of underlying, non-changing basics of computers so that they can make knowledgeable decisions about systems.
Carefully and patiently introduces students to new technological concepts, so that they are not overwhelmed by challenging materials, but instead build a deep understanding of what makes computer systems tick.
Examples cover a broad spectrum of hardware and software systems, from personal computer to mainframe.
The author's "light touch" includes a breezy, readable writing style and subject-specific cartoons that introduce each chapter's material.
As in the prior edition, discussions of hardware and system software are integrated into a single volume where symbioses between them are explored. Examples include: Virtual storage, Javabytes, distributed processing, and Virtual machines.
Designed to serve as a reference book for the remainder of the student's career.
See More
Instructors Resources
ENHANCE YOUR COURSE
Digital evaluation copy available for this title
Request Copy

Contact your Wiley Representative
Find Your Rep

See More
See Less
Students Resources
See More
See Less
Learn more about