Financial Reporting of Environmental Liabilities and Risks after Sarbanes-Oxley
ISBN: 978-0-471-71743-0
408 pages
October 2005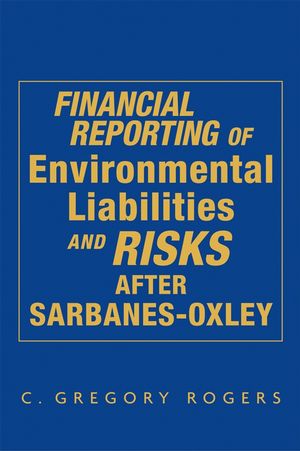 Financial Reporting of Environmental Liabilities and Risks is a complete guide to developing the underlying business systems to successfully report environmental matters in audited financial statements and reports filed with the Securities Exchange Commission (SEC). It sets forth relevant reporting and internal control standards and discusses important issues affecting reporting entities, accountants, lawyers, and environmental professionals.
See More
About the Author.
Preface.
Acknowledgments.
PART ONE: Introduction to Environmental Financial Reporting.
Chapter One: Financial Reports and the Financial Reporting Process.
Chapter Two: The Law and Accounting Sandwich.
Chapter Three: Environmental Laws.
Chapter Four: Environmental Financial Reporting: Overview.
Chapter Five: Financial Reporting Objectives.
PART TWO: Sarbanes-Oxley.
Chapter Six: Sarbanes-Oxley: Overview.
Chapter Seven: Certifications.
Chapter Eight: Internal Control.
Chapter Nine: Improper Influence on the Audit.
Chapter Ten: Off-Balance-Sheet Arrangements.
Chapter Eleven: Accelerated Reporting.
PART THREE: Financial Reporting Standards.
Chapter Twelve: General Principles of Financial Reporting.
Chapter Thirteen: Environmental Costs.
Chapter Fourteen: Environmental Assets.
Chapter Fifteen: Capitalized Environmental Costs.
Chapter Sixteen: Rights of Recovery.
Chapter Seventeen: Emission Credits.
Chapter Eighteen: Environmental Liabilities.
Chapter Nineteen: Environmental Loss Contingencies.
Chapter Twenty: Environmental Remediation Liabilities.
Chapter Twenty-one: Environmental Guarantees.
Chapter Twenty-two: Asset Retirement Obligations.
Chapter Twenty-three: Asset Impairments.
Chapter Twenty-four: Environmental Risks.
Chapter Twenty-five: Supplemental Reporting Standards.
PART FOUR: Audit Standards and Practices.
Chapter Twenty-six: Financial Statement Auditing.
Chapter Twenty-seven: Internal Control Auditing.
Appendix A: Authoritative Documents Pertaining to Environmental Financial Reporting.
Appendix B: Selected Bibliography.
Glossary.
Index.
See More
C. Gregory Rogers, J.D., CPA, is a practicing environmental lawyer and management consultant in Dallas, Texas. He is "of counsel" with Guida, Slavich & Flores, a law firm focusing on environmental legal matters, where he advises public and non-public companies on the purchase, sale, financing, and redevelopment of contaminated real estate. He is also President of C.G. Rogers & Co, LLC, a management consulting firm specializing in environmental financial reporting and related business strategies.
Mr. Rogers is a non-practicing CPA and former financial auditor with Arthur Andersen & Co. He began his legal career with two national law firms in Washington, D.C. and Dallas as a corporate securities lawyer, where he became versed in the U.S. federal securities laws and SEC regulations. After gaining experience in environmental law, he left legal practice for several years to work with General Motors Corp. and other clients on the reengineering of various environmental and financial business processes.
Following the enactment of the Sarbanes-Oxley Act of 2002, Mr. Rogers drew upon his background in accounting, law, and consulting to analyze the environmental-related accounting, legal, and management implications of that far-reaching legislation. He has since written numerous articles on various aspects of environmental financial reporting that have appeared in publications sponsored by the National Association of Corporate Directors, the American Bar Association, Financial Executives International, the Risk and Insurance Management Society, and the National Brownfields Association. Mr. Rogers is an active member of the American Bar Association's Special Committee on Environmental Disclosures and was one of 30 national experts who participated in the U.S. Government Accountability Office (GAO) investigation and report to Congress on Environmental Disclosures (July 2004).
Mr. Rogers earned his law degree from the Southern Methodist University School of Law where he was a Hatton W. Sumners Scholar and law review editor. He received his B.B.A. from the University of Oklahoma.
See More