Mobile, Wireless, and Sensor Networks: Technology, Applications, and Future Directions
ISBN: 978-0-471-71816-1
Hardcover
456 pages
March 2006, Wiley-IEEE Press
US $134.00

Add to Cart
This price is valid for United States. Change location to view local pricing and availability.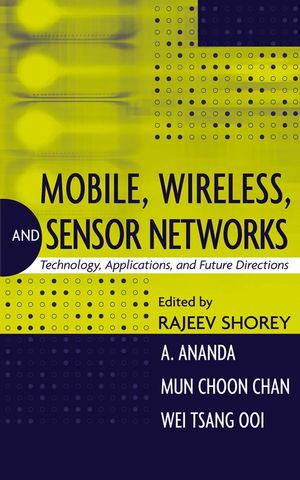 Other Available Formats:
E-book
FOREWORD.
PREFACE.
CONTRIBUTORS.
PART I: RECENT ADVANCES IN WLANs AND MULTIHOP WIRELESS NETWORKS.
1. Measuring Wireless LANs 5 (Tristan Henderson and David Kotz).
2. Understanding the Use of a Campus Wireless Network (David Schwab and Rick Bunt).
3. QoS Provisioning in IEEE 802.11 WLAN (Sunghyun Choi and Jeonggyun Yu).
4. A Perspective on the Design of Power Control for Mobile Ad Hoc Networks (Alaa Muqattash, Marwan Krunz, and Sung-Ju Lee).
5. Routing Algorithms for Energy-Efficient Reliable Packet Delivery in Multihop Wireless Networks (Suman Banerjee and Archan Misra).
PART II: RECENT ADVANCES AND RESEARCH IN SENSOR NETWORKS.
6. Detection, Energy, and Robustness in Wireless Sensor Networks (Lige Yu and Anthony Ephremides).
7. Mobile Target Tracking Using Sensor Networks (Ashima Gupta, Chao Gui, and Prasant Mohapatra).
8. Field Gathering Wireless Sensor Networks (Enrique J. Duarte-Melo and Mingyan Liu).
9. Coverage and Connectivity Issues in Wireless Sensor Networks (Amitabha Ghosh and Sajal K. Das).
10. Storage Management in Wireless Sensor Networks (Sameer Tilak, Nael Abu-Ghazaleh, and Wendi B. Heinzelman).
11. Security in Sensor Networks (Farooq Anjum and Saswati Sarkar).
PART III: MIDDLEWARE, APPLICATIONS, AND NEW PARADIGMS.
12. WinRFID: A Middleware for the Enablement of Radiofrequency Identification (RFID)-Based Applications (B. S. Prabhu, Xiaoyong Su, Harish Ramamurthy, Chi-Cheng Chu, and Rajit Gadh).
13. Designing Smart Environments: A Paradigm Based on Learning and Prediction (Sajal K. Das and Diane Cook).
14. Enforcing Security in Mobile Networks: Challenges and Solutions (Feng Bao, Robert H. Deng, Ying Qiu, and Jianying Zhou)
15. On-Demand Business: Network Challenges in a Global Pervasive Ecosystem (Craig Fellenstein, Joshy Joseph, Dongwook Lim, and J. Candice D'Orsay).
INDEX.