Morningstar Guide to Mutual Funds: Five-Star Strategies for Success, 2nd Edition
ISBN: 978-0-471-71832-1
304 pages
October 2005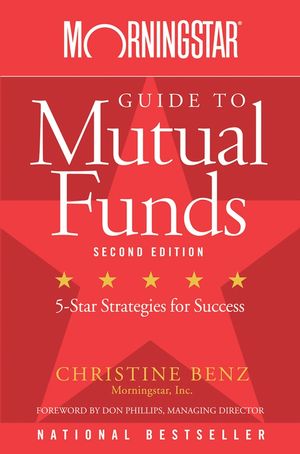 GUIDE TO MUTUAL FUNDS

SECOND EDITION

"Picking actively managed mutual funds is no mean challenge. And as the recent era underscores, past performance is of little help. The Morningstar Guide to Mutual Funds helps cut through the fog with a solid volume of constructive information. The central message--'truly diversify, keep it simple, focus on costs, and stick with it'--is not only timeless, it is priceless."
--John C. Bogle, founder and former CEO, The Vanguard Group

"Successful investors know they must do their own due diligence. Morningstar has done much of that homework in this guide. Leave it to Morningstar to get it right, offering smart ways to pick, build and monitor a portfolio. It's a commonsense guide that should grace every investor's shelf."
--Ted David, CNBC Anchor

"There's nothing Morningstar doesn't know about mutual funds. And at last, for ready reference, there's a book. You'll find everything here you need to know about managing fund investments, inside or outside a 401(k)."
--Jane Bryant Quinn, Newsweek columnist and author of Making the Most of Your Money
See More
FOREWORD.
ACKNOWLEDGMENTS.
INTRODUCTION.
PART ONE: HOW TO PICK MUTUAL FUNDS.
Chapter 1: Know What Your Fund Owns.
Chapter 2: Put Performance in Perspective.
Chapter 3: Understand the Risks.
Chapter 4: Get to Know Your Fund Manager.
Chapter 5: Keep a Lid on Costs.
PART TWO: HOW TO FIND IDEAS FOR YOUR PORTFOLIO.
Chapter 6: Find the Right Core Stock Funds for You.
Chapter 7: Move Beyond the Core: Using Specialized Stock Funds.
Chapter 8: Find the Right Core Bond Fund for You.
Chapter 9: Move Beyond the Core: Using Specialized Bond Funds.
PART THREE: HOW TO BUILD A PORTFOLIO.
Chapter 10: Match Your Portfolio to Your Goals.
Chapter 11: Put Your Portfolio Plan into Action.
Chapter 12: Simplify Your Investment Life.
Chapter 13: Be Savvy When Seeking Advice.
PART FOUR: HOW TO MONITOR YOUR PORTFOLIO.
Chapter 14: Schedule Regular Checkups.
Chapter 15: Know When to Sell.
Chapter 16: Keep a Cool Head in Turbulent Markets.
PART FIVE: MORE ON MUTUAL FUNDS: FREQUENTLY ASKED QUESTIONS.
RECOMMENDED READING.
OTHER MORNINGSTAR RESOURCES.
INDEX.
See More
CHRISTINE BENZ is Editor of Morningstar® Mutual Funds, a bimonthly publication, and Morningstar® Funds 500, an annual book covering 500 top mutual funds. She has worked as a Morningstar analyst and editor since 1993, focusing on growth-oriented funds. Benz is widely quoted in the media and appears regularly on CNBC.
MORNINGSTAR, INC., is a leading provider of investment research in the United States and in major international markets. The company offers an extensive line of Internet, software, and print-based products and services for individuals, financial advisors, and institutional clients. Morningstar provides data on more than 125,000 investment offerings, including stocks, mutual funds, and similar vehicles. The company has operations in sixteen countries.
See More