E-book
The Vest Pocket CFO, 2nd Edition
ISBN: 978-0-471-72262-5
746 pages
May 2005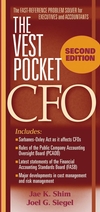 The perfect speedy reference for today's overburdened financial managers

The Vest Pocket CFO, Second Edition offers vital support for CFOs and financial executives who need to simplify their day-to-day workloads. Written in any easy Q & A format and packed with checklists, samples, and worked-out solutions to a wide variety of finance and accounting problems, it speeds readers through such complex tasks as Sarbanes-Oxley compliance, internal control and financial reporting, financial statement analysis, and much more. This small but powerful resource helps busy financial managers:
* Solve business problems with instant access to key techniques, tips, and strategies
* Analyze, evaluate, and solve financial issues in a hurry with handy ratios, procedures, and rules of thumb
* Use sample reports and guidelines to help complete complex tasks in a jiffy
See More
PART 1: REPORTS AND FILINGS.
Chapter One. Chief Financial Officer's Reports.
Chapter Two. Securities and Exchange Commission Filings.
PART 2: FINANCIAL ACCOUNTING.
Chapter Three. Financial Statement Reporting: The Income Statement.
Chapter Four. Financial Statement Reporting: The Balance Sheet.
Chapter Five. The Statement of Cash Flows.
Chapter Six. Accounting and Disclosures.
Chapter Seven. Key Financial Accounting Areas.
Chapter Eight. Interim and Segmental Reporting.
PART 3: MANAGEMENT ACCOUNTING.
Chapter Nine. Cost Management and Analysis.
Chapter Ten. Cost-Volume-Profit Analysis and Leverage.
Chapter Eleven. Short-Term Decisions.
Chapter Twelve. Financial Forecasting, Planning, and Budgeting.
Chapter Thirteen. Risk Management.
Chapter Fourteen. Capital Budgeting.
Chapter Fifteen. What and Why of Responsibility Accounting.
Chapter Sixteen. Control of Profit Centers.
Chapter Seventeen. Performance Investment Centers and Transfer Pricing.
Chapter Eighteen How to Analyze and Improve Corporate Profitability and Shareholder Value.
Chapter Nineteen. Sustainable Growth Model.
PART 4: MANAGEMENT OF ASSETS AND PAYABLES.
Chapter Twenty. Working Capital and Cash Management.
Chapter Twenty-One. Management of Accounts Receivable.
Chapter Twenty-Two. Inventory Management.
Chapter Twenty-Three. Management of Payables.
PART 5: FINANCING THE BUSINESS.
Chapter Twenty-Four. Short-Term and Intermediate-Term Financing.
Chapter Twenty-Five Long-Term Financing.
Chapter Twenty-Six. Warrants and Convertibles.
Chapter Twenty-Seven. Cost of Capital and Capital Structure Decisions.
Chapter Twenty-Eight. Dividend Policy.
Chapter Twenty-Nine. Financial Management of Multinational Corporations.
PART 6: FINANCIAL ANALYSIS.
Chapter Thirty. Financial Statement Analysis.
Chapter Thirty-One. Analysis, Evaluation, and Control of Revenue and Costs.
Chapter Thirty-Two. Insurance and Legal Considerations.
Chapter Thirty-Three. Basics of Economics.
PART 7: INVESTMENTS.
Chapter Thirty-Four. Corporate Investments in Securities.
PART 8: TAXATION.
Chapter Thirty-Five. Tax Factors in Financial Decision Making.
PART 9: MERGERS, DIVESTITURES, FAILURE, AND REORGANIZATION.
Chapter Thirty-Six. Mergers and Acquisitions.
Chapter Thirty-Seven. Divestiture.
Chapter Thirty-Eight. Forecasting Corporate Financial Distress.
Chapter Thirty-Nine. Failure and Reorganization.
Appendix.
Index.
See More
JAE K. SHIM, PhD, is Professor of Accounting and Finance at California State University, Long Beach, and also serves as an industrial consultant. He is a CFO of Delta Consulting Company. Dr. Shim has published more than fifty books, including the bestselling Vest-Pocket MBA, which has sold more than 500,000 copies.
JOEL G. SIEGEL, PhD, CPA, is Professor of Accounting at Queens College of the City University of New York. He is the author of sixty-seven books and has written hundreds of articles for accounting and financial journals. He was a member of the audit staff of Coopers & Lybrand, and he has consulted in accounting issues to many organizations, including IT&T, Citicorp, and Person/Wolinsky CPA Review Course.
See More