Innovations in Office Design: The Critical Influence Approach to Effective Work Environments
ISBN: 978-0-471-73041-5
280 pages
February 2008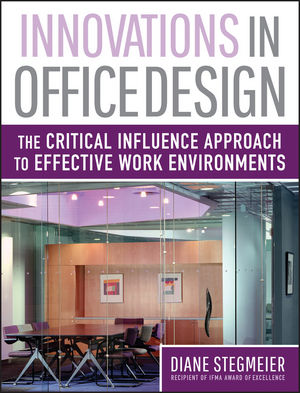 "Diane Stegmeier's landmark findings on workplace behavior in the corporate setting will prove vital in determining workplace strategy over the next ten years." -- Prentice Knight, CEO of CoreNet Global
"The author takes a truly comprehensive approach to understanding the business barriers to the successful implementation of physical space design. The Critical Influence methodology identifies areas of resistance to change and addresses them, enabling the architectural and design firm to do what they do best—create the appropriate workplace solution."-- from the Foreword by Greg Bendis
"One of the most difficult aspects of facility management is the inability to link environmental improvements with measurable productivity results. Stegmeier's observations in this area are based on hard facts and real research, not just abstract theories. Her work is an essential tool for any professional looking to justify facility improvements that can actually support and advance the mission of the organization."-- Heidi Schwartz, Editor-in-Chief of Today's Facility Manager Magazine
This definitive book on innovations in interior office design offers vital lessons on preventing workplace strategy failure for architects, interior designers, facility managers, and business leaders. It fully explains the author's research on the fifteen Critical Influences on behavior in the workplace, and introduces a practical approach to integrate an organization's cultural, operational, and environmental elements fostering the desired behaviors to support the company's business goals when designing an office. The book includes case studies of good design in contemporary interior offices illustrating collaborative workplaces that work.
Content from this book is available as an online continuing professional education course at http://www.wiley.com/WileyCDA/Section/id-320255.html#office_design.  WileyCPE courses are available on demand, 24 hours a day, and are approved by the American Institute of Architects.
See More
FOREWORD xi
PREFACE xiii
ACKNOWLEDGMENTS xvii
INTRODUCTION 1
WHAT DEFINES THE WORKPLACE DESIGN CLIMATE? 2
PREVIEW OF WHAT'S AHEAD 3
CHAPTER 1: AN INTERDISCIPLINARY APPROACH 11
VALUES AND PERCEIVED RISKS OF AN INTERDISCIPLINARY APPROACH 11
INTERPRETATION BY DIVERSE DISCIPLINES 15
COLLABORATION BETWEEN ARCHITECTURAL AND DESIGN FIRMS 18
KEY COMPONENTS OF AN INTERDISCIPLINARY APPROACH 27
SUMMARY 27
CHAPTER 2: THE CRITICAL INFLUENCE SYSTEM 31
KEY FACTORS ENABLING A SUSTAINABLE PLATFORM FOR CHANGE 31
DEFINING THE CRITICAL INFLUENCE SYSTEM 32
KEY FACTORS INFLUENCING HUMAN BEHAVIOR IN THE WORKPLACE 35
CHAPTER 3: CREATIVITY, INNOVATION, AND THE INNOVATION-FRIENDLY WORKPLACE 71
DEFINING CREATIVITY AND INNOVATION 72
BUSINESS CASE FOR DISTINCTION 72
THEORY OF MULTIPLE INTELLIGENCES 74
DESIGNING FOR DIVERSITY 77
DICHOTOMIES OF THE INNOVATION-FRIENDLY WORKPLACE 79
AN INFRASTRUCTURE FOR INNOVATION 87
THE INNOVATION-FRIENDLY WORKPLACE 94
LESSONS LEARNED IN THE DESIGN OF INNOVATION-FRIENDLY WORKPLACES 97
BENEFITS OF COLLABORATION TO INNOVATION 103
CHAPTER 4: UNDER THE INFLUENCE 105
WORKPLACE TRANSFORMATION AND THE CRITICAL INFLUENCE SYSTEM 105
SUMMARY 126
CHAPTER 5: CASE STUDIES: COLLABORATIVE WORKPLACES THAT WORK 129
CASE STUDY: ALCOA CORPORATE CENTER 130
CASE STUDY: MARCONI COMMUNICATIONS 136
CASE STUDY: SEI INVESTMENTS 143
CASE STUDY: GSA WORKPLACE 20 \ 20 145
CASE STUDY: ANALYTICAL GRAPHICS, INC. 159
CASE STUDY: PFIZER GLOBAL RESEARCH & DEVELOPMENT 165
CASE STUDY: CISCO—THE CONNECTED WORKPLACE 170
CASE STUDY: GENSLER HEADQUARTERS 173
CASE STUDY: DE LAGE LANDEN 177
CHAPTER 6: COLLABORATIVE WORKPLACE PRINCIPLES 183
CULTURAL ELEMENTS FOSTERING INNOVATIVE BEHAVIOR 184
OPERATIONAL ELEMENTS FOSTERING INNOVATIVE BEHAVIOR 185
ENVIRONMENTAL ELEMENTS FOSTERING INNOVATIVE BEHAVIOR 189
COLLABORATIVE WORKPLACE PRINCIPLES 193
CHAPTER 7: COLLABORATIVE PRINCIPLE INDEX 195
EIGHT MYTHS OF WORKPLACE COLLABORATION 196
COLLABORATIVE PRINCIPLE INDEX 203
CHAPTER 8: CRITICAL INFLUENCE DESIGN MODEL 207
INCORPORATING DISTINCT AREAS OF FUNCTIONAL EXPERTISE 207
THE CRITICAL INFLUENCE DESIGN MODEL 208
GROWING THE MODEL TO SUPPORT COMPLEX CLIENT REQUIREMENTS 211
DISTINGUISHING CRITICAL INFLUENCE DESIGN FROM OTHER APPROACHES 212
A SUSTAINABLE PLATFORM FOR CHANGE 213
THE CRITICAL INFLUENCE DESIGN MODEL: ADDRESSING EMERGING BUSINESS ISSUES 219
SUMMARY 223
CHAPTER 9: APPLYING THE MODEL 225
STILL NOT CONVINCED? 225
PRECONDITIONS FOR SUCCESS 227
APPLYING THE CRITICAL INFLUENCE DESIGN MODEL 228
CONCLUSION 235
INDEX 237
See More
Diane Stegmeier is President of Stegmeier Consulting Group, Cleveland, Ohio, a company recognized as the global leader in workplace change management. The firm leverages best practices in managing change to deliver two significant results to its clients: 1) a reduction in workplace costs, while at the same time, 2) an improvement in workforce performance. Stegmeier is a recipient of the prestigious Award of Excellence, Distinguished Author: Book, presented to her by the International Facility Management Association (IFMA).
See More