Hedge Funds: Insights in Performance Measurement, Risk Analysis, and Portfolio Allocation
ISBN: 978-0-471-73743-8
Hardcover
653 pages
August 2005
US $90.00

Add to Cart
This price is valid for United States. Change location to view local pricing and availability.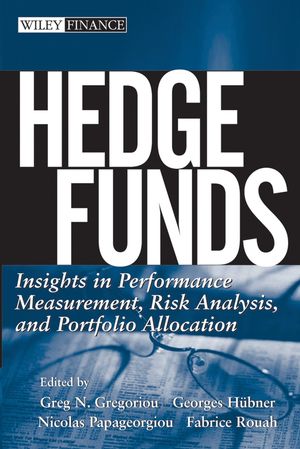 Other Available Formats:
E-book
Preface.
Acknowledgments.
PART ONE: Portfolio Allocation in Hedge Funds.
Chapter 1: Integrating Hedge Funds into the Traditional Portfolio (Harry M. Kat).
Chapter 2: Hedge Funds from the Institutional Investor's Perspective (Noël Amenc, Felix Goltz, and Lionel Martellini).
Chapter 3: Funds of Hedge Funds versus Portfolios of Hedge Funds: A Comparative Analysis (Daniel Capocci and Valérie Nevolo).
Chapter 4: Analyzing Style Drift in Hedge Funds (Nolke Posthuma and Pieter Jelle Van der Sluis).
Chapter 5: Hedge Fund Allocation under Higher Moments and Illiquidity (Niclas Hagelin, Bengt Pramborg, and Fredrik Stenberg).
Chapter 6: Revisiting the Role of Hedge Funds in Diversified Portfolios (Jean Brunel).
Chapter 7: Hedge Fund Selection: A Synthetic Desirability Index (Jean-Pierre Langevin).
PART TWO: Hedge Fund Management.
Chapter 8: Hedge Fund Index Tracking (Carol Alexander and Anca Dimitriu).
Chapter 9: Designing a Long-Term Wealth Maximization Strategy for Hedge Fund Managers (Keith H. Black).
Chapter 10: Profiles of Hedge Fund Indexes against Conventional Asset Style Indexes (Barry Feldman).
Chapter 11: Applying Securitization Technology to Hedge Funds (Paul U. Ali).
Chapter 12: Maximum Drawdown Distributions with Volatility Persistence (Kathyrn Wilkens, Carlos J. Morales, and Luis Roman).
PART THREE: Risk and Performance Measurement.
Chapter 13: A Literature Review of Hedge Fund Performance Studies (Fabrice Rouah).
Chapter 14: Investing in Hedge Funds through Multimanager Vehicles (Meredith A. Jones).
Chapter 15: Performance in the Hedge Fund Industry: An Analysis of Short- and Long-term Persistence (Sébastien Gyger, P.-A. Bares, and R. Gibson).
Chapter 16: Further Evidence on Hedge Fund Performance: A Calendar-Time Approach (Maher Kooli).
Chapter 17: Investing in Hedge Funds: Risks, Returns, and Performance Measurement (Francis C. C. Koh, Winston T. H. Koh, David K. C. Lee, Kok Fai Phoon).
Chapter 18: Efficiency of Funds of Hedge Funds: A Data Envelopment Analysis Approach (Greg N. Gregoriou and Kevin McCarthy).
Chapter 19: The Performance of Hedge Funds in the Presence of Errors in Variables (Alain Coën, Aurélie Desfleurs, Georges Hübner, and François-Éric Racicot).
Chapter 20: Alternative RAPMs for Alternative Investments (Milind Sharma).
PART FOUR: Statistical Properties of Hedge Funds.
Chapter 21: Volatility Regimes and Hedge Fund Management (Mark Anson, Ho Ho, and Kurt W. Silberstein).
Chapter 22: Does Extreme Risk Affect the Fund of Hedge Funds Composition? (Laurent Favre).
Chapter 23: A Hedge Fund Investor's Guide to Understanding Managed Futures (Hilary F. Till and Joseph Eagleeye).
Chapter 24: Fat-Tail Risk in Portfolios of Hedge Funds and Traditional Investments (Jean-François Bacmann and Gregor Gawron).
Chapter 25: Skewing Your Diversification (Mark S. Shore).
Chapter 26: Investable Equity Long/Short Hedge Funds: Properties and Behavior (Edward Leung and Jacqueline Meziani).
Chapter 27: Hedge Funds and Portfolio Optimization: A Game of Its Own? (Zsolt Berenyi).
PART FIVE: Special Classes of Hedge Funds.
Chapter 28: Structured Products on Fund of Fund Underlyings (Jens Johansen).
Chapter 29: Hedge Funds and the Stale Pricing Issue (Mohamed Gaber, Greg N. Gregoriou, and William Kelting).
References.
Index.