Knott's Handbook for Vegetable Growers, 5th Edition
ISBN: 978-0-471-73828-2
621 pages
October 2006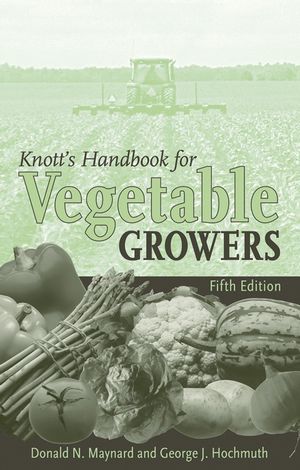 The leading one-stop reference for commercial vegetable growers for more than 50 years



Rooted in tradition, branching out to the future. For more than half a century, Knott's Handbook for Vegetable Growers has provided generations of commercial growers with the most timely, accessible, and useful information available on the subject. The Fifth Edition of this highly regarded horticultural mainstay provides readers with the reliable growing and marketing information they've come to expect, while including new and updated material throughout to maintain its relevance in our ever-changing world.

Filled with valuable information, largely in the form of tables and charts--from hard statistics on vegetable production and consumption to essential information for today's international markets, such as vegetable botanical names and vegetable names in nine languages--Knott's Handbook is part Farmer's Almanac, part encyclopedia, and part dictionary. It also provides detailed, practical specifics on planting rates, schedules, and spacing; soils and fertilizers; methods for managing crop pests; greenhouse vegetable and crop production; insect pest identification; harvesting and storage; and vegetable marketing.

Now available in a new flexible cover designed for ease of use on the desk or in the field, this valuable workhorse features new information on:
* World vegetable production
* Best management practices
* Organic crop production
* Food safety
* Pesticide safety
* Postharvest problems
* Minimally processed vegetables
* Plus, hundreds of Web site links related to vegetable information
See More
PREFACE.
PART 1: VEGETABLES AND THE VEGETABLE INDUSTRY.
01 BOTANICAL NAMES OF VEGETABLES NAMES OF VEGETABLES IN NINE LANGUAGES.
02 EDIBLE FLOWERS.
03 U.S. VEGETABLE PRODUCTION.
04 CONSUMPTION OF VEGETABLES IN THE U.S.
05 WORLD VEGETABLE PRODUCTION.
06 NUTRITIONAL COMPOSITION OF VEGETABLES.
PART 2: PLANT GROWING AND GREENHOUSE VEGETABLE PRODUCTION.
TRANSPLANT PRODUCTION.
01 PLANT GROWING CONTAINERS.
02 SEEDS AND SEEDING.
03 TEMPERATURE AND TIME REQUIREMENTS.
04 PLANT GROWING MIXES.
05 SOIL STERILIZATION.
06 FERTILIZING AND IRRIGATING TRANSPLANTS.
07 PLANT GROWING PROBLEMS.
08 CONDITIONING TRANSPLANTS.
09 ADDITIONAL TRANSPLANT PRODUCTION WEBSITES AND REFERENCES GREENHOUSE CROP PRODUCTION.
10 CULTURAL MANAGEMENT.
11 CARBON DIOXIDE ENRICHMENT.
12 SOILLESS CULTURE.
13 NUTRIENT SOLUTIONS.
14 TISSUE COMPOSITION.
15 ADDITIONAL SOURCES OF INFORMATION ON GREENHOUSE VEGETABLES.
PART 3: FIELD PLANTING.
01 TEMPERATURES FOR VEGETABLES.
02 SCHEDULING SUCCESSIVE PLANTINGS.
03 TIME REQUIRED FOR SEEDLING EMERGENCE.
04 SEED REQUIREMENTS.
05 PLANTING RATES FOR LARGE SEEDS.
06 SPACING OF VEGETABLES.
07 PRECISION SEEDING.
08 SEED PRIMING.
09 VEGETATIVE PROPAGATION.
10 POLYETHYLENE MULCHES.
11 ROW COVERS.
12 WINDBREAKS.
13 ADDITIONAL SOURCES OF INFORMATION ON PLASTICULTURE.
PART 4: SOILS AND FERTILIZERS.
01 NUTRIENT BEST MANAGEMENT PRACTICES.
02 ORGANIC MATTER.
03 SOIL-IMPROVING CROPS.
04 MANURES.
05 SOIL TEXTURE.
06 SOIL REACTION.
07 SALINITY.
08 FERTILIZERS.
09 FERTILIZER CONVERSION FACTORS.
10 NUTRIENT ABSORPTION.
11 PLANT ANALYSIS.
12 SOIL TESTS.
13 NUTRIENT DEFICIENCIES.
14 MICRONUTRIENTS.
15 FERTILIZER DISTRIBUTORS.
PART 5: WATER AND IRRIGATION.
01 SUGGESTIONS ON SUPPLYING WATER TO VEGETABLES.
02 ROOTING OF VEGETABLES.
03 SOIL MOISTURE.
04 SURFACE IRRIGATION.
05 OVERHEAD IRRIGATION.
06 DRIP OR TRICKLE IRRIGATION.
07 WATER QUALITY.
PART 6: VEGETABLE PESTS AND PROBLEMS.
01 AIR POLLUTION.
02 INTEGRATED PEST MANAGEMENT.
03 SOIL SOLARIZATION.
04 PESTICIDE USE PRECAUTIONS.
05 PESTICIDE APPLICATION AND EQUIPMENT.
06 VEGETABLE SEED TREATMENT.
07 NEMATODES.
08 DISEASES.
09 INSECTS.
10 PEST MANAGEMENT IN ORGANIC PRODUCTION SYSTEMS.
11 WILDLIFE CONTROL.
PART 7: WEED MANAGEMENT.
01 WEED MANAGEMENT STRATEGIES.
02 WEED IDENTIFICATION.
03 NOXIOUS WEEDS.
04 WEED CONTROL IN ORGANIC FARMING.
05 COVER CROPS AND ROTATION IN WEED MANAGEMENT.
06 HERBICIDES.
07 WEED CONTROL RECOMMENDATIONS.
PART 8: HARVESTING, HANDLING, AND STORAGE.
01 FOOD SAFETY.
02 GENERAL POSTHARVEST HANDLING PROCEDURES.
03 PREDICTING HARVEST DATES AND YIELDS.
04 COOLING VEGETABLES.
05 VEGETABLE STORAGE.
06 CHILLING AND ETHYLENE INJURY.
07 POSTHARVEST DISEASES.
08 VEGETABLE QUALITY.
09 U.S. STANDARDS FOR VEGETABLES.
10 MINIMALLY PROCESSED VEGETABLES.
11 CONTAINERS FOR VEGETABLES.
12 VEGETABLE MARKETING.
PART 9: VEGETABLE SEEDS.
01 SEED LABELS.
02 SEED GERMINATION TESTS.
03 SEED GERMINATION STANDARDS.
04 SEED PRODUCTION.
05 SEED YIELDS.
06 SEED STORAGE.
07 VEGETABLE VARIETIES.
08 VEGETABLE SEED SOURCES.
PART 10: APPENDIX.
01 SOURCES OF VEGETABLE INFORMATION.
02 PERIODICALS FOR VEGETABLE GROWERS.
03 U.S. UNITS OF MEASUREMENT.
04 CONVERSION FACTORS FOR U.S. UNITS.
05 METRIC UNITS OF MEASUREMENT.
06 CONVERSION FACTORS FOR SI AND NON SI UNITS.
07 CONVERSIONS FOR RATES OF APPLICATION.
08 WATER AND SOIL SOLUTION CONVERSION FACTORS.
09 HEAT AND ENERGY EQUIVALENTS AND DEFINITIONS.
INDEX.
See More
DONALD N. MAYNARD
is an internationally recognized authority on vegetables. He is Professor Emeritus at the University of Florida and is a past president of the American Society for Horticultural Science.
GEORGE J. HOCHMUTH is an internationally recognized authority on vegetables, through his previous bimonthly column in American Vegetable Grower and other works on vegetable production. He is Professor of Horticultural Sciences and Associate Dean for Research at the University of Florida.
Both authors have been recognized repeatedly for their contributions to the vegetable industry and are Fellows of the American Society for Horticultural Science.
See More
Bound in a new, flexible cover that allows the pages to lie flat and that is designed for hard field use.
Updated material covers the important changes in allowable pesticide and herbicide use.
See More
This new edition adds new material on topics such as:
Composting
Fresh cut vegetable products
GMO
Organic growing and federal regulations
BMP information
Environmentally friendly pest management
Food safety
Sustainable growing and production
See More
"Intended for commercial growers, the guide is a rich source of information for anyone who aims to harness the power of photosynthesis, perhaps especially serious gardeners. Metric conversion tables, fertilizer application methods, and tips for shipping and packaging round out a volume that strikes a perfect balance between robust content and lucid presentation." (
American Reference Books Annual
, 2008)
"It certainly provides the user with a wealth of current information on vegetable crop production and marketing in a well-organized and clearly presented manner." (HorTechnology, July-Sept 2007)
See More