The Six Immutable Laws of Mobile Business
ISBN: 978-0-471-74146-6
201 pages
January 2010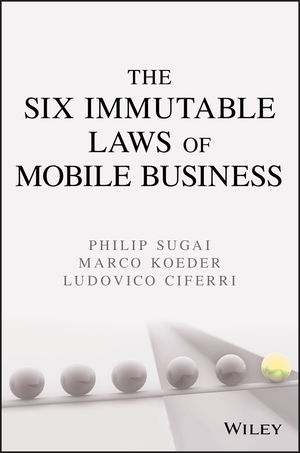 Valuable lessons from Japan's mobile industry yield 6 Immutable Laws for Mobile Business globally
Japan's mobile customers enjoyed better mobile devices, more content, and the most advanced functionality and services for the last 10+ years. This book helps cut through the many myths and all of the hype surrounding Japan's mobile dominance to identify the most important laws that will guide the success of mobile businesses around the world. Based on detailed market analysis and unprecedented access to the major players and pioneers of the Japanese mobile industry, this publication helps you understand the Six Immutable Laws of Mobile Business. These will help you and your business successfully navigate the challenges that the world's Wireless Revolution brings. From Law #1 through Law #6, authors Philip Sugai, Marco Koeder, and Ludovico Ciferri will help guide you to distinguish mobile myth from mobile fact, micro developments from macro trends, and regional characteristics from universal truths.
The book highlights Japan's incredible efforts to offer consumers complex, high-tech devices with enriched services that are nonetheless elegant and easy to use, a quest which the authors have labeled "Simplexity." Based on their interviews and observations, the authors assert that, "Simplexity will be what truly empowers individual users through their mobile devices.
Filled with case studies exploring all aspects of the Japanese mobile industry, this unique publication points carriers and content and service providers towards successful business models and practices for today's and tomorrow's mobile Internet.
This book is the beginning of the conversation of The Six Immutable Laws of Mobile Business, which is regularly being updated and expanded upon at:www.siximmutablelaws.com
See More
FOREWORD.
PREFACE.
ACKNOWLEDGMENTS.
INTRODUCTION.
CHATPER 1 Immutable Law No.1: Value Over Culture.
CHAPTER 2 Immutable Law No. 2: The Law of the Ecosystem.
CHAPTER 3 Immutable Law No. 3: Mobility Empowers.
CHAPTER 4 Immutable Law No. 4: The Value of Time Zones.
CHAPTER 5 Immutable Law No. 5: Mobile-Specific Business Models Are Essential.
CHAPTER 6 Immutable Law No. 6: The Future Is Simplexity.
CHAPTER 7 Parting Thoughts.
BIBLIOGRAPHY.
INDEX.
See More
Philip Sugai, DSc, MBA,
is the Director of the Mobile Consumer Lab and Professor of Marketing at the Graduate School of International Management at the International University of Japan. He is an advisor to a number of companies in Japan and overseas on the strategic implications of wireless technologies on consumer behavior.
Marco Koeder, MS, is Executive Director of CyberMedia K.K., a leading digital media agency in Japan. He is also a mobile evangelist and strategic advisor to global players in the online and media industries.
Ludovico Ciferri, MA, is Research Manager at Istituto Superiore Mario Boella, where he is in charge of the Japan and Australasia regions. He is a researcher at Mobile Internet Capital, Inc. and teaches mobile business strategy at the International University of Japan's Graduate School of International Management.
See More