Interior Design Visual Presentation: A Guide to Graphics, Models and Presentation Techniques, 3rd Edition
ISBN: 978-0-471-74156-5
320 pages
December 2007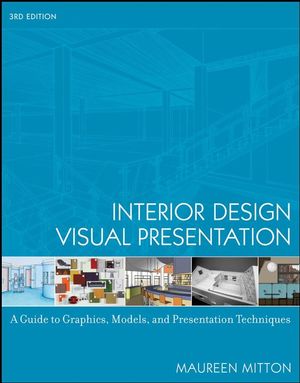 Develop the skills you need to deliver presentations that sell.
This unique resource focusing on the visual design and presentation skills of the interior designer, offers thorough, process-oriented coverage on the planning, layout, and design of interior building spaces, complete with a broad range of real-world examples. The author's accessible, how-to approach guides you through a variety of techniques for executing creative and successful design graphics, models, and presentations. She includes the latest information on CAD and digital portfolios, as well as Web page design. Dozens of high-quality, full-color illustrations highlight step-by-step instructions detailing techniques and approaches. This is the only book to follow FIDER accredited course requirements, covering all three required subjects. Order your copy today.
See More
ACKNOWLEDGMENTS ix
INTRODUCTION xi
1 ORTHOGRAPHIC DRAWINGS 1
Materials, Tools, and Equipment for Manual Drafting 2
Understanding Orthographic Projection Drawings 6
Orthographic Projection Drawings for Interior Environments 10
2 THE DESIGN PROCESS AND RELATED GRAPHICS 29
Programming 31
Diagrams and Programming Analysis Graphics 33
Programming Matrices 35
Schematic Design 36
Design Development 51
3 PARALINE AND PERSPECTIVE DRAWINGS 93
Paraline Drawings 95
Perspective Drawings 99
Developing Visual Skills 105
4 DRAWING AND SKETCHING INTERIOR ENVIRONMENTS 113
Estimated One-Point Interior Perspective Drawings 113
Estimated Two-Point Interior Perspective Drawings 116
Refined Linear Perspective Methods 122
Two-Point Plan Projection Method 122
Prepared Perspective Grid Charts 130
Using Photographs 132
Digital Models and Drawings 133
Drawing Composition and Cropping 139
5 RENDERING 143
Rendering as Illumination 144
Materials, Media, and Tools 144
Rendering Orthographic Projection Drawings 151
Rendering Perspective Drawings 158
6 SCALE MODELS 181
Materials and Tools 183
Construction and Use of Models 193
7 PRESENTING MATERIALS AND FINISHES 205
Materials and Media 208
Organization and Composition 212
Techniques and Methods of Presentation 218
8 MAKING THE COMPLETE PRESENTATION 225
Organization and Composition 229
Techniques and Methods of Presentation 230
Public Speaking and Design Communication 238
9 PORTFOLIOS AND RESUMES 245
Graphic Design Components 245
The Resume 249
The Portfolio 264
The Digital Portfolio 268
APPENDIX 1 281
Directory of Featured Professionals.
APPENDIX 2 282
Blank Criteria Matrix.
APPENDIX 3 283
Drawing Elevations: A Residential Case Study.
APPENDIX 4 286
Color Theory for Rendering.
APPENDIX 5 288
Scale Figures and Entourage.
APPENDIX 6 292
Two-Point Perspective Grid.
INDEX 293
See More
Maureen Mitton, MA, is Associate Professor in the Department of Art and Design at the University of Wisconsin-Stout. She is a Certified Interior Designer, NCIDQ qualified, and a member of IDEC.
See More
Now covers all aspects of drawing, including new coverage of orthographic projections and drafting
A wide range of new projects are included in addition to dozens of new high-quality full-color illustrations that highlight the step-by-step instructions and approaches outlined throughout the book
Digital presentations are covered in more detail and focus on using Photoshop and AutoCAD for two-dimensional design presentations
Includes expanded coverage and samples of three-dimensional computer modeling
See More
Written for the interior design student - this is the first book to address the visual design and presentation needs of the interior designer rather than the architect
How-to approach and step-by-step instruction supplemented by concise information about the process of design
Includes coverage of CAD and digital portfolios, web page design, end-of-chapter exercises, and samples of student work
Features dozens of projects as well as high-quality full-color illustrations that highlight the step-by-step instructions and approaches outlined throughout the book
Numerous examples of quick-sketching techniques as well as computer-generated, 3D representations
Includes methods for perspective drawing and estimated sketching
Features a range of examples from small, residential student projects to huge, public interior spaces designed by leading professionals  
Only book to follow accredited course requirements
See More
Learn more about