Cash & Investment Management for Nonprofit Organizations
ISBN: 978-0-471-74165-7
Hardcover
456 pages
April 2007
US $105.00

Add to Cart
This price is valid for United States. Change location to view local pricing and availability.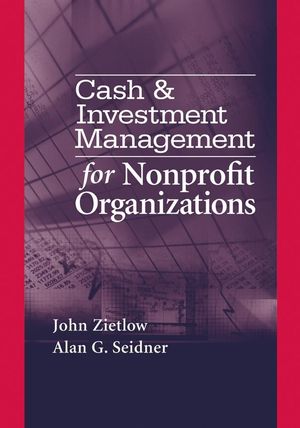 Other Available Formats:
E-book
About the Authors.
Acknowledgments.
Preface.
CHAPTER 1: CASH FLOW AND YOUR CASH POSITION.
1.1 Life in the Nonprofit Finance Office.
1.2 Target Liquidity as the Primary Financial Objective.
1.3 Setting Your Liquidity Target.
1.4 How Do Proficient Cash Management and Investment Management Enable Your Organization to Achieve Its Liquidity Target?
1.5 Summary.
CHAPTER 2: CASH PLANNING AND LIQUIDITY.
2.1 Cash Flow Characteristics of Nonprofits.
2.2 Cash Shortfalls and What to Do about Them.
2.3 Tiers of Liquidity and the Spectrum of Liquidity.
2.4 Measuring and Managing Solvency, Liquidity, and Financial Flexibility.
2.5 Managing Cash Flow.
2.6 Cash Budgeting.
2.7 Summary.
CHAPTER 3: CASH COLLECTIONS AND POSITIONING.
3.1 Introduction.
3.2 Objectives of Cash Collections and Positioning Systems.
3.3 Front End of Collections: Receivables Management.
3.4 U.S. Payments System.
3.5 Expediting Check Collections.
3.6 Accepting Card Payments.
3.7 Accepting Electronic Payments.
3.8 Comparison of Alternative Collection Systems.
3.9 Cash Positioning.
3.10 International Cash Collections and Concentration.
3.11 Fraud Issues.
3.12 Imaging.
3.13 Benchmarking and Outsourcing.
CHAPTER 4: CASH DISBURSEMENTS.
4.1 Introduction.
4.2 Objectives of Cash Disbursements Systems.
4.3 Disbursements Policy.
4.4 Checks and Drafts.
4.5 Purchasing/Procurement Cards.
4.6 Other Electronic Payments.
4.7 Comparison of Alternative Disbursement Systems.
4.8 Establishing Your Banking Network: Products and Services to Consider.
4.9 Fraud Prevention and Internal Control.
4.10 International Cash Disbursements.
4.11 Imaging.
4.12 Outsourcing Disbursements or Payables.
4.13 Summary.
CHAPTER 5: BANKING RELATIONSHIP MANAGEMENT.
5.1 Introduction.
5.2 Objectives for Your Banking Relationship.
5.3 Communicating with Your Bank.
5.4 Services Provided by Banks.
5.5 Depository Services and the Availability Schedule.
5.6 Bank Selection.
5.7 Managing Bank Relationships.
5.8 Nonbank Service Providers.
5.9 Information Services.
5.10 Banking Globally.
5.11 Bank Report Cards.
5.12 Cash Management Audits.
5.13 Summary.
CHAPTER 6: DEBT MANAGEMENT.
6.1 Introduction.
6.2 Objectives of Debt Management.
6.3 Debt Policy.
6.4 Short-Term Borrowing.
6.5 How a Bank Views a Nonprofit Borrowing Request.
6.6 Debt Management Metrics and Benchmarks.
6.7 Summary.
CHAPTER 7: INVESTING PRINCIPLES AND PROCEDURES FOR
OPERATING AND STRATEGIC RESERVES.
7.1 Introduction.
7.2 Managing Liquidity Funds and Optimizing Return on Excess Short-Term Working Capital.
7.3 Criteria for Investing.
7.4 Investor or Speculator?
7.5 Standard Operating Investment Procedures.
7.6 Investment Operations: An Introduction.
7.7 Introduction to Yield Analysis.
7.8 Yield Curve Analysis.
7.9 Yield Spread Analysis.
7.10 Price Movement of Fixed-Income Securities.
7.11 Effect of Changing Interest Rates on Longer Maturities.
7.12 Summary of Yield Curves.
7.13 Fixed-Income Investment Instruments: An Introduction.
7.14 U.S. Treasury Securities.
7.15 U.S. Government Agency Securities.
7.16 Municipal Debt Instruments.
7.17 Corporate Debt Instruments.
7.18 Money Market Instruments Issued by Banks and Investment Companies.
7.19 Repurchase Agreements.
7.20 Summary.
CHAPTER 8: INVESTING PRINCIPLES AND PROCEDURES FOR
ENDOWMENT, SELF-INSURANCE, AND PENSIONS.
8.1 Introduction.
8.2 Endowment Management.
8.3 Characteristics of Endowment.
8.4 Endowment Investment.
8.5 Principles of Endowment Management.
8.6 Endowment Spending Policy.
8.7 Self-Insurance and Pensions.
8.8 Investment Advisors.
8.9 Summary.
Index.