Teach Yourself VISUALLY Dog Training
ISBN: 978-0-471-74989-9
256 pages
May 2006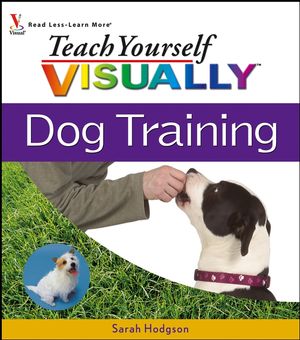 When you're training your dog, he won't sit still for long-winded explanations. You don't have to, either! With this visual guide, you'll quickly learn how to determine your dog's personality, customize a training plan, and speak Doglish. You'll get the scoop on training tools, everyday handling, puppy conditioning, and socialization. You'll learn how to teach basic commands and progress to fun tricks and games. Instead of poring over boring text, you'll get the picture and enjoy working with your soon-to-be well-trained dog!

Concise two-page lessons show you all the steps to a skill and are ideal for quick review
* Each tool, principle, or training technique is clearly described
* Detailed color photos demonstrate each step
* Step-by-step instructions accompany each photo
* Helpful tips provide additional guidance
See More
Chapter 1: Your Dog's Worldview.
Dogs Have Personality, Too.
Test Your Dog's Personality.
Get a Proper Education.
Chapter 2: Learning to Speak Doglish.
Understand Pack Theory.
Understand Your Dog's Motivation.
Play on the Same Team.
Encourage More Than You Discourage.
Learn to Interpret Doglish.
Read Your Dog's Postures.
Develop Sensory Awareness.
Understand Cause and Effect.
Chapter 3: Training Tools.
Creative Confinements.
Mats and Beds.
Toys and Chews.
Measure Your Dog for a Collar or Harness.
Training Collars.
Leashes.
Containment Leads.
Teaching Lead.
Housetraining Aids.
Irreplaceable Extras.
Clicker Training.
Chapter 4: Proofing and Prevention.
Everyday Handling.
Teaching Food-Bowl and Toy Acceptance.
Interrupting Sleep.
Being Around Children.
Adapting to Environmental Sounds.
Coping with Household Noises.
Chapter 5: Puppy Kindergarten: Early Conditioning.
Meeting Your Puppy's Needs.
Say YES More Than NO and Say It Often.
Structure Spaces.
Condition Your Puppy to Wear a Collar and Leash.
Introduce Stairs.
Teach Early Manners.
Discourage with EP, EP.
Distract Your Puppy.
Puppy Point.
Chapter 6: Grade-School Lessons.
The Magic Five.
Leading.
The Concept of NO.
Discourage Chewing with NO.
Other Uses for NO.
Point Training.
HEEL.
DOWN.
COME.
STAND.
SIT-STAY.
DOWN-STAY.
Fun Medleys.
Chapter 7: The Invisible Leash.
Practice Paying Attention.
Hands-Free Control with a Short Lead.
An Off-Lead Concept of NO.
When Your Dog Breaks.
Reinforce the Three Steps of COME.
Know When to Trust Your Dog to COME.
Avoid Overusing COME.
Deal with Less-Than-Perfect Reactions to COME.
Work Around Distractions.
Train with a Retractable Leash.
Work on a Ten-Foot Security Line.
Use a Long Line.
Emergency DOWN.
Default Behavior.
Chapter 8: Socialization Plus.
People.
Places.
Other Dogs.
Other Animals.
Things.
Surfaces.
Stimulation.
Chapter 9: Games and Tricks.
Runaway Come.
Two-Ball Toss.
Treat Cup Name Game.
Toy Along, Tag Along.
Swing Toss.
Soda Bottle Soccer.
If You're Happy and You Know It.
BOW.
CRAWL.
PAW.
OVER.
THROUGH.
BRING.
GIVE.
SPEAK and SHHH.
PLAY DEAD.
Roll Over.
Chapter 10: The Civilized Companion.
Doorway Etiquette.
Digging (If You Must) .
Greeting.
Housetraining.
Mouthing.
Chewing.
Staying Off the Furniture (Or Not).
Visiting.
Chapter 11: Crisis Management.
Chasing.
Destructive Chewing.
Grab-and-Go.
Leash Pulling.
Housetraining Difficulties.
Marking.
Nipping.
Jumping.
Mounting.
Separation Anxiety.
Stool Swallowing.
Stimulated Peeing.
Timidity.
Appendix A: Choosing the Right Breed.
Choosing a Breed if You're Dogless.
Selecting a Puppy.
Selecting an Older Dog.
Finding a Dog or a Puppy.
Appendix B: Finding the Right Professionals.
Choosing a Veterinarian.
Finding Additional Help.
Appendix C: Everyday Care and Concerns.
Brush Your Dog.
Nail Clipping and Bathing.
Teeth, Eyes, and Ears.
Other Important Healthcare Checks and Techniques.
Have Your Dog Spayed or Neutered.
Dietary Decisions.
Different Forms of Dog Food.
Appendix D: Kids and Dogs—from Coming Home to Everyday Living.
Preparing for a New Baby.
Kids and Dogs.
Credits.
Index.
See More
Sarah Hodgson has been a trainer of dogs and their people for over 20 years. She has had many famous clients, including TV personality Katie Couric; actors Richard Gere, Glenn Close, Chazz Palminteri, Chevy Chase, and Lucie Arnez; business moguls George Soros, Tommy Hilfiger, Tommy Mottola, and Michael Fuchs; and sports greats Bobby Valentine and Alan Houston. She is the author of eight dog-training books, including Puppies For Dummies, DogPerfect, and PuppyPerfect, and has two additional titles soon to be released: Miss Sarah's Guide to Etiquette for Dogs and Their People (2006) and Dog Psychology For Dummies (2007). Sarah lives in Katonah, New York, with her daughter, Lindsay, and her black Lab, Whoopsie Daisy. For more information, you can visit her website: www.dogperfect.com.
See More