Textbook
Baldrige User's Guide: Organization Diagnosis, Design, and Transformation, 2nd Edition Updated and Expanded for 2006
ISBN: 978-0-471-75279-0
Paperback
488 pages
June 2005, ©2006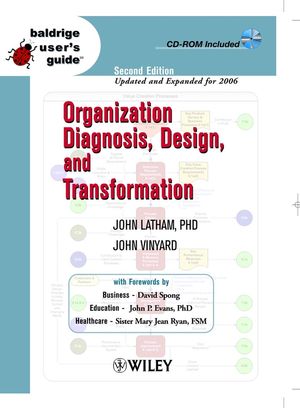 This title is out-of-print and not currently available for purchase from this site.
Foreword.
Acknowledgements.
About the Authors.
Introduction.
Origin, Purpose, and Growth.
The Performance Excellence Framework.
Organization - Leadership. Execution, and Learning.
DDT - Diagnosis, Design, and Transformation.
The Organization Architect.
Why This Guide?
PART 1: FOCUS.
Organizational Profile  - Key Organizational Factors.
Criteria Core Values and Concepts - Design Principles.
The Organization as a System - Criteria System.
Maturity Models - Path to Performance Excellence.
PART 2: STRATEGIC LEADERSHIP.
PART 3: EXECUTION EXCELLENCE.
PART 4: ORGANIZATIONAL LEARNING.
PART 5: THE JOURNEY.
Overview - A Learning process and Reinforcing Loop Diagnosis.
Design - Redesign.
Transformation.
Appendix A: Glossary.
Appendix B: Blueprint Legend.
References.