Trading Card Games For Dummies
ISBN: 978-0-471-75416-9
350 pages
March 2006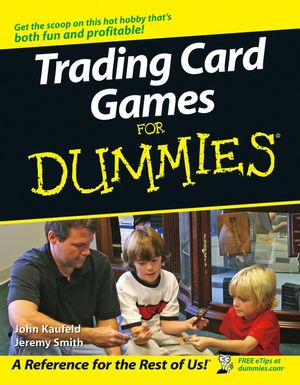 Check out Magic: The Gathering, Heroclix, and more


Explore popular games like Legend of the Five Rings, build decks, and trade online

Whether you're already hooked on trading card games, want to understand what your kids are into, or are just curious to see what all the fuss is about, you've come to the right place. Here's the scoop on the hottest games, secrets of successful collecting, tips for customizing your dream deck, and ways to make your hobby pay.

Discover how to
* Get started with the VS System, Yu-Gi-Oh, Pokemon, and others
* Identify basic types of cards
* Buy and sell online -- wisely
* Play around with collectible miniatures
* Safely store and transport your collection
See More
Introduction.
Part I: Playing a Game Like Nothing You've Played Before.
Chapter 1: Mixing Chess, Baseball Cards, and Green Army Men.
Chapter 2: Looking under the Hood: What Makes Collectible Games Tick?
Chapter 3: Getting into the Right Game for You.
Part II: Introducing the Big Six.
Chapter 4: Beginning Where It All Started — with Magic: The Gathering.
Chapter 5: Battling for Superhero Supremacy with the Vs. System.
Chapter 6: Thrills, Skills, and Strategy for Everybody with Pokémon.
Chapter 7: Defending Your Honor in Legend of the Five Rings.
Chapter 8: Dueling with Monsters and Magic in Yu-Gi-Oh!
Chapter 9: Fighting for Truth, Justice, and Superhero Supremacy with HeroClix.
Part III: Shuffling through the Rest of the Decks.
Chapter 10: Bringing Comic Books, Manga, and Anime to Life.
Chapter 11: Playing TV Shows and Movies on Your Tabletop.
Chapter 12: Living Your Dreams in Fantasy and Science Fiction Games.
Chapter 13: Exploring History and Literature with Cards and Dice.
Chapter 14: Playing by Age: Games for Kids to Grown-ups.
Part IV: Diving Deeper into the Hobby.
Chapter 15: Rising Above the Tabletop in Paint and Plastic.
Chapter 16: Collecting, Trading, Storing, and Transporting Your Goodies.
Chapter 17: Challenging Your Skills in Tournaments.
Chapter 18: Turning Collectibles into Profitables with eBay.
Chapter 19: Volunteering for Fun, Frolic, and Freebies.
Part V: The Part of Tens.
Chapter 20: Ten Tips for Buying, Selling, and Trading.
Chapter 21: Ten Short Games to Play between Rounds.
Chapter 22: Ten Great Gifts for the Game Player You Adore.
Index.
See More
John Kaufeld
has been running independent game stores since 1998. He is an officer of the Game Manufacturers Association (GAMA, www.gama.org), a national trade group for manufacturers, designers, distributors, and retailers of everything in the "adventure games" product category. He currently works with GAMA as the Press Liaison for the Origins International Game Expo (www.originsgames.com). John Kaufeld has also written numerous books in the
For Dummies
series.
Jeremy Smith is an associate editor at InQuest Gamer magazine, one of the premier publications in the hobby gaming industry. He has written for the magazine since 1996 and has been on its staff since 2001, when he moved from Rhode Island to New York to take on the immense task of playing games for a living. His chief task of compiling and editing the magazine's price guide harkens back to his card-trading days at the University of Rochester in upstate New York, where he'd spend a weekend turning a handful of junk rares into a new car. Or something close to that, anyway.
The writing part probably sprung out of his lifelong love for words, starting back in Minnesota from age two, reading words off the TV while watching The Electric Company. This continued later on when he represented Rhode Island at the National Spelling Bee in 1987 and 1988 and then worked as an editor for the university newspaper in Rochester.
Jeremy's previous interests in playing Dungeons & Dragons and collecting sports cards (go Red Sox and Patriots!) during the '80s and early '90s led to his entry into the trading card game arena, starting when he bought his first packs of Magic: The Gathering back in 1994 and told the dealer, "Hi! I'd like to pick up a new addiction!" How prophetic, indeed.
In addition to his daily routine of charting card prices, building decks, and occasionally getting some real work done at InQuest Gamer, Jeremy also moonlights as a certified judge for Wizards of the Coast's sanctioned Magic tournament program. This has given him experience in everything from running a tournament of more than 100 players by himself to training and mentoring new judges to making darned sure that the players all have a good time and come back for more. It has also taken him to exciting places like Amsterdam, New Orleans, and Kansas City to judge at major tournaments. Well, at least Kansas City had some great steaks.
See More
Buy Both and Save 25%!
Trading Card Games For Dummies (US $19.99)
-and- KenKen For Dummies (US $9.99)
Total List Price: US $29.98
Discounted Price: US $22.48 (Save: US $7.50)
Cannot be combined with any other offers. Learn more.