Make Money in Short-Sale Foreclosures: How to Bypass Owners and Buy Directly from Lenders
ISBN: 978-0-471-76084-9
288 pages
April 2006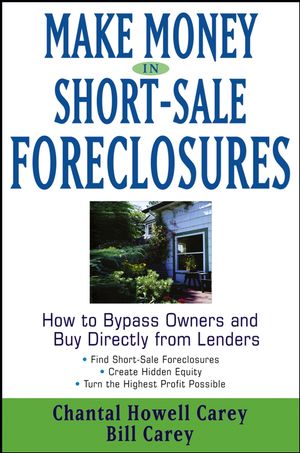 MAKE MONEY IN SHORT-SALE FORECLOSURES

Foreclosures are the most profitable way to invest in real estate. But most real estate books on foreclosures don't tell you how to invest in short-sale foreclosures--properties with even more profit potential than regular foreclosures. A short-sale foreclosure is a lender accepting a loan payoff for less than the amount owed. This comprehensive new guide from renowned real estate authors Chantal and Bill Carey covers all the ins and outs of short-sale foreclosure investing, from finding properties to negotiating with lenders, to closing the deal and making a bundle. Inside you'll find all the information you need to succeed:
* Finding great short-sale foreclosure deals
* Dealing with owners in financial distress
* When to buy short-sale foreclosures
* Creating equity in foreclosure properties
* Writing successful short-sale offers
* FHA, VA, and private mortgage insurance short-sales
* Purchasing short-sale properties at auction
* Understanding escrow, closing, and title insurance
* Flipping short-sale properties
See More
Preface.
Introduction.
1. Make Money in Short-Sale Foreclosures.
The two strategies to make money in foreclosures are quick cash and long-term wealth building.
2. What Is a Foreclosure?
A foreclosure is a lender taking a property from a borrower to recover their loan asset.
3. What Is a Short-Sale Foreclosure?
A short-sale foreclosure is a lender selling a property for less than the loan amount.
4. How to Find Short-Sale Foreclosures.
You can find short-sale foreclosure opportunities anywhere foreclosures are happening.
5. Dealing with Owners in Financial Distress.
There are two time periods to work with owners in financial distress.
6. When to Buy Short-Sale Foreclosures.
Buy short-sale foreclosures before, during, or after the foreclosure sale.
7. No Equity? No Problem!
You can create equity in the property even if the property owner has no equity.
8. How to Bypass the Owner.
Contact the property owner before you make contact with the real estate lender.
9. How to Write a Short-Sale Offer.
There are no ands, ifs, or buts when you write a short-sale offer.
10. Buying from the Lender before the Foreclosure Sale.
The bottom line is the bottom line when you are buying from real estate lenders before the foreclosure sale.
11. Understanding Short-Sales from the Lender's Point of View.
By understanding short-sales from the lender's point of view you will be able to communicate more effectively with the lender's short-sale decision maker.
12. How to Have Your Short-Sale Offer Accepted by the Lender.
Find the person in charge of short-sales for the lender and negotiate directly with that person and no one else.
13. FHA, VA, and Private Mortgage Insurance Short-Sales.
You can make a short-sale deal with the Federal Housing Administration, the Department of Veterans Affairs, and private mortgage insurance companies.
14. Buying the Mortgage in Foreclosure at a Short-Sale Price.
Buy the mortgage in foreclosure from the lender before the foreclosure sale.
15. Buying at the Foreclosure Sale.
Bring cash when you are buying on the courthouse steps.
16. Buying from the Lender after the Foreclosure Sale.
Real estate lenders want to make real estate loans. They do not want to own real estate.
17. Bankruptcy and Other Problems.
You must be aware of an owner filing bankruptcy.
18. Escrow, Closing, and Title Insurance.
Never buy property without title insurance.
19. Flipping Your Short-Sales.
Flip your short-sale foreclosures for a quick profit.
Conclusion.
Appendix A: Deeds Chart.
Appendix B: Loans Chart.
Appendix C: Contracts and Paperwork.
Glossary.
Index.
See More
Chantel Howell Carey
, a member of Zonta International, has handled millions in real estate sales and management as a broker, consultant, and trustee.
Bill Carey began selling real estate in 1977 and is a former director of the San Diego Association of Realtors and the California Association of Realtors. Chantal and Bill are also seminar speakers and international real estate and trust consultants. Bill is a tax consultant as well. Together, they are also the authors of several other books, including The New Path to Real Estate Wealth, Quick Cash in Foreclosures, Make Money in Real Estate Tax Liens, and the bestselling How to Sell Your Home Without a Broker, all from Wiley.
See More