Professional Planting Design: An Architectural and Horticultural Approach for Creating Mixed Bed Plantings
ISBN: 978-0-471-76139-6
304 pages
March 2007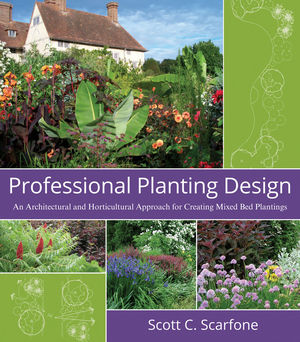 "This is a great reference book for planting design, which is an arena where so many of us are hugely challenged. Information in it is well written, engaging, useful, accessible, and original."
-- Holly H. Shimizu, Executive Director, United States Botanic Garden
"A unique blend of classic planting-design principles and ecological plant-selection criteria."
-- Scot Medbury, President, Brooklyn Botanic Garden
"After reading the book, you will be able to experiment with nature and use its myriad of facets to make your own original statement. You will be ready to take risks and design exciting and original gardens."
-- From the Foreword by James A. van Sweden, Oehme, van Sweden & Associates
A comprehensive guide to the "high art" of designing mixed bed plantings
When done successfully, mixed beds represent the pinnacle of planting design -- a living work of art in which small trees, shrubs, perennials, grasses, bulbs, tropicals, and groundcovers combine to create a true feeling of place. Professional Planting Design initiates you into the principles of planting design and helps you develop the ability to think about the planting design process, so that you can develop your own effective compositions that sustain multi-seasonal interest.
Richly illustrated with photographs and drawings, Professional Planting Design covers the basics as well as the advanced concepts of planting design including: selecting plant characteristics, types of mixed bed plantings, structuring and composing mixed beds, creating mixed palettes for seasonal variation, designing in elevation and plan view, and choosing plants. You'll find coverage of design, landscape architecture, and horticulture interwoven throughout the guide, along with detailed steps for developing mixed bed planting compositions at a variety of scales for projects on both residential and commercial sites.
Clear and concise yet thorough, this book will supplement your talent with the knowledge you need to create harmonious mixed plantings in the landscape that will provide continual interest throughout the seasons.
See More
Foreword by James A. van Sweden vii
Foreword by Fergus Garrett viii
Introduction ix
Planting Design: A Unique Design Profession xii
Practicing the Art of Mixed Planting Design xiv
1 Mixed Planting Basics 1
Mixing and Matching 2
Evolution of a Planting Style 3
The Theory Behind Mixed Plantings:
The Role of Dynamism and Diversity 7
Making the Most of the Mix 9
The Role of Plant Functionality in Design 10
Mixed Planting Bed Functions 10
Mixed Planting Bed Types 12
Cultural and Maintenance Considerations as Part of the Design Process 15
Moving on with the Planting Design Process 16
2 The Power of Succession 19
Planning for Succession 20
Components of the Mixed Planting 21
Permanent vs. Temporary Plantings 35
3 Applying Design Fundamentals to Planting Design 37
Elements of Composition 38
Using Color in the Landscape 50
The Language of Design 54
4 Structuring and Adorning the Mixed Planting Composition 69
Imposing a Planting Structure 70
Punctuating with Decorative Plants 73
Working with Plant Forms 75
Incorporating Leaf Characteristics 81
Using Foliage Color 89
Maintaining Seasonal Interest 94
5 Form–Based Approach to Mixed Planting Design 101
Understanding Form Relationships 102
Blocking a Design Pattern 107
Creating Mass: Grouping and Arranging 108
Assembling the Abstract Composition 116
Evaluating the Composition 123
6 Designing in Plan View: Creating the Beds 125
Going Horizontal 126
Grouping Plants: Developing Masses 131
Calculating Bed Depth 138
Establishing the Bed Line 140
Developing a Design Theme 145
Using a Grid 161
Conclusion 173
7 Composing and Structuring a Mixed Bed 175
Layering as Part of the Planning Process 176
Locating the Plants 177
Identify Locations of Structure Plants 177
Add Theme Plants 184
Insert Accents or Focal Points 190
Infill or Filler Plantings 196
Understanding the Importance of
Massing to the Planting Composition 197
Factoring in Maintenance 203
Conclusion 206
8 Specifying Plants by Their Characteristics 207
Specifying Characteristics 208
Planning for Succession 218
Creating a Memorable Impression 226
Keeping It Simple 234
9 Understanding the Planting Environment 237
Understanding Soils 238
Exposure to the Elements 241
Accounting for Growth Behavior 243
Giving Plants Room to Grow 246
Exploiting Plant Genetics 249
Conclusion 249
10 Completing the Process: Selecting the Plants 251
Bibliography 259
Index 261
See More
Scott C. Scarfone, ASLA, is a principal at Oasis Design Group, a landscape architecture, planning, and design firm he founded in historic Fells Point in Baltimore, Maryland. He is an instructor in the continuing education programs at Longwood Gardens in Kennett Square, Pennsylvania, The School of the Chicago Botanic Garden in Chicago, and Brookside Gardens in Wheaton, Maryland. He frequently lectures around the country on various topics including garden design, planting design, and garden travel. Scott is a registered landscape architect and a certified professional horticulturist with a specialization in herbaceous perennials.
See More
"The great mysteries of successful planting design are unraveled by landscape architect Scott Scarfone in Professional Planting Design. Scarfone sets out the guidelines to allow anyone from an avid amateur gardener to a professional landscape designer or architect to create a living work of art with plants." (
The American Gardner
, May/June 2008)
"Using mainly black and white drawings and photographs to illustrate principles, he prods the reader to think first of architectural concepts, forms and textures before considering color compositions. High marks go to the author for his presentation on the application of theory." (Chicago Botanic Garden Current Books and Book Reviews Web page; summer 2007)
"It is a 'go-to' reference for a variety of design topics from useful definitions of design fundamentals to more complex considerations of massing plants, structuring space, and deconstructing design compositions to understand how they function." (Landscape Architecture: The Magazine of the American Society of Landscape Architects, February 2008, Vol. 98, No. 2)
See More
Instructors Resources
Request a print evaluation copy
Contact us

See More
See Less
Buy Both and Save 25%!
Professional Planting Design: An Architectural and Horticultural Approach for Creating Mixed Bed Plantings (US $80.00)
-and- The Site Calculations Pocket Reference, 2nd Edition (US $75.00)
Total List Price: US $155.00
Discounted Price: US $116.25 (Save: US $38.75)
Cannot be combined with any other offers. Learn more.