The Power of Persuasion: How We're Bought and Sold
ISBN: 978-0-471-76317-8
288 pages
January 2006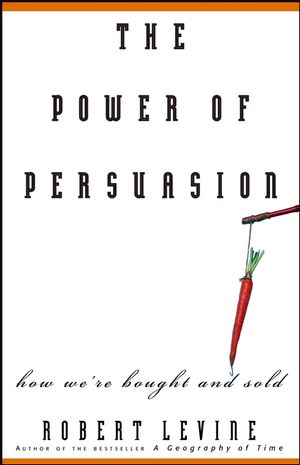 "An engaging, highly readable survey of the sophisticated methods of persuasion we encounter in various situations. From television to telemarketing and from self-deception to suicide cults, Levine takes a hard look at all the ways we attempt to persuade each other--and how and why they work (or don't). . . . The next time you wonder what possessed you to pay $50 for a medallion commemorating the series finale of Friends, you'll know where to turn."
--Slashdot.org

"If you're like most people, you think advertising and marketing work--just not on you. Robert Levine's The Power of Persuasion demonstrates how even the best-educated cynics among us can be victimized by sales pitches."
--The Globe and Mail

"Levine puts [his] analysis in the service of his real mission--to arm the reader against manipulation."
--The Wall Street Journal

"This wonderful book will change the way you think and act in many realms of your life."
--Philip Zimbardo former president, American Psychological Association
See More
Acknowledgments.
Introduction.
ONE: The Illusion of Invulnerability
Or, How Can Everyone Be Less Gullible Than Everyone Else?
TWO: Whom Do We Trust? Experts, Honesty, and Likability
Or, the Supersalesmen Don't Look Like Salesmen at All.
THREE: Killing You with Kindness
Or, Beware of Strangers Bearing Unexpected Gifts.
FOUR: The Contrast Principle
Or, How Black Gets Turned into White.
FIVE: $2 + $2 = $5
Or, Learning to Avoid Stupid Mental Arithmetic.
SIX: The Hot Button
Or, How Mental Shortcuts Can Lead You into Trouble.
SEVEN: Gradually Escalating the Commitments
Or, Making You Say Yes by Never Saying No.
EIGHT: Winning Hearts and Minds
Or, the Road to Perpetual Persuasion.
NINE: Jonestown
Or, the Dark End of the Dark Side of Persuasion.
TEN: The Art of Resistance
Or, Some Unsolicited Advice for Using and Defending against Persuasion.
Notes.
Index.
See More
ROBERT LEVINE is Professor and former Chairperson of the Psychology Department at California State University, Fresno. He has published articles in Psychology Today, Discover, American Demographics, NY Times, Utne Reader and American Scientist. He has received awards for his teaching, research and writing, including being named the university's "Outstanding Professor." Dr. Levine has been a Visiting Professor at Universidade Federal Fluminense in Niteroi, Brazil, at Sapporo Medical University in Japan, and at Stockholm University in Sweden. He serves on boards of professional organizations in the U.S. Germany and Taiwan.
See More
Learn more about