The Unofficial Guide to Photoshop Elements 4
ISBN: 978-0-471-76323-9
761 pages
March 2006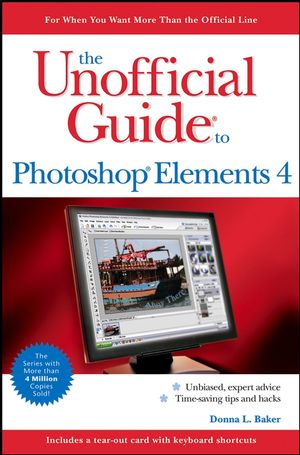 The inside scoop...for when you want more than the official line!


Photoshop Elements has the power to transform your digital images, but to use itwith confidence you'll need to know its quirks and shortcuts. Find out what the manual doesn't always tell you in this insider's guide to using Elements in the real world. Can you eliminate red eye and dark circles? Is there a way to simplify the output process? From discovering how to glamorize photos to creating high-impact slideshows for work or Web--first get the official way, then the best way from an expert.

Unbiased coverage of getting the most out of Photoshop Elements, including retouching and sharpening your images, managing metadata, and using Elements with other Adobe(r) products

Savvy, real-world advice to help you scan, edit, colorize, add effects to, and output your images

Time-saving techniques and practical guidance on setting up photo albums, creating slideshows with effects, and using RAW images

Tips and hacks on how to resample images, apply multiple transformations, and more suggestions to save you time and improve your results

Sidebars and tables on bitmap versus vector images, shape tools configurations, and other ways to be more productive in Photoshop Elements

Watch for these graphic icons in every chapter to guide you to specific practicalinformation.
* Bright Ideas are smart innovations that will save you time or hassle.
* Hacks are insider tips and shortcuts that increase productivity. When you see
* Watch Out! heed the cautions or warnings to help you avoid commonpitfalls. And finally, check out
* Inside Scoops for practical insights from the author. It's like having your own expert at your side!
See More
Introduction.
I First You Find Some Images.
1 All Together Now.
2 Your Digital Shoebox: The Organizer.
3 Tidying Up Your Files.
II Image Editing.
4 Seeing What You Have.
5 Shaping Up Your Images.
6 Color Inside the Lines.
7 Hands-Off Image Correcting.
8 All in the Details.
9 In Living Color.
III Pick What You Want to Work With.
10 Choosing Parts.
11 It's Like a Layer Cake.
12 Fun with Layers.
IV Not-So-Basic Image Editing.
13 Manually Correcting Images.
14 Retouching Magic.
V From an Image to a Work of Art.
15 Getting to Know Filters.
16 Finessing with Filters.
17 Say It with Words and a Picture.
18 Are Your the Next Picasso?
VI Now That the Images Look Great....
19 I'll Take a Dozen Copies.
20 Creating Fun Stuff.
21 On With the Show.
22 Managing Image Distribution.
23 Cooking with Raw Images.
Glossary.
Appendix A: Resource Guide.
Appendix B: Useful Real-World Worksheets.
Index.
See More
Donna L. Baker is an author, graphic designer, and instructor. She has been a writer and contributing editor for an online graphics magazine since 1998. She has experience training graphic and business software users in both corporate and classroom settings.
Donna is the author of many books covering a variety of graphics and Web software, ranging from Acrobat to Photoshop. More information and samples of her work and book projects are available at www.donnabaker.ca.
See More