E-book
The Addiction Progress Notes Planner, 2nd Edition
ISBN: 978-0-471-77179-1
432 pages
August 2005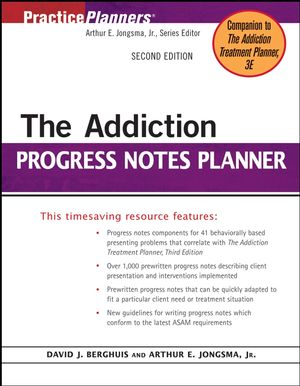 The Addiction Progress Notes Planner
contains complete prewritten session and patient presentation descriptions for each behavioral problem in
The Addiction Treatment Planner, Third Edition
. The prewritten progress notes can be easily and quickly adapted to fit a particular client need or treatment situation.
Saves you hours of time-consuming paperwork, yet offers the freedom to develop customized progress notes
Organized around 41 main presenting problems that range from opioid dependence to new chapters in this edition covering such co-occurring disorders as chronic pain, dangerousness/lethality, and self-care deficits
Features over 1,000 prewritten progress notes (summarizing patient presentation, themes of session, and treatment delivered)
Provides an array of treatment approaches that correspond with the behavioral problems and DSM-IV-TR diagnostic categories in The Addiction Treatment Planner, Third Edition
Offers sample progress notes that conform to the requirements of most third-party payors and accrediting agencies, including the JCAHO and the NCQA
See More
Practice
Planners
®
Series
Preface.
Acknowledgments.
Introduction.
Adult-Child-of-an-Alcoholic (ACOA) Traits.
Anger.
Antisocial Behavior.
Anxiety.
Attention-Deficit / Hyperactivity Disorder (ADHD).
Attention-Deficit / Inattentive Disorder (ADD).
Borderline Traits.
Childhood Trauma.
Chronic Pain.
Dangerousness / Lethality.
Dependent Traits.
Depression.
Eating Disorders.
Family Conflicts.
Gambling.
Grief / Loss Unresolved.
Impulsivity.
Legal Problems.
Living Environment Deficiency.
Mania / Hypomania.
Medical Issues.
Narcissistic Traits.
Nicotine Abuse / Dependence.
Occupational Problems.
Opioid Dependence.
Oppositional Defiant Behavior.
Parent / Child Relational Problem.
Partner Relational Conflicts.
Peer Group Negativity.
Posttraumatic Stress Disorder (PTSD).
Psychosis.
Relapse Proneness.
Self-Care Deficits: Primary.
Self-Care Deficits: Secondary.
Sexual Promiscuity.
Social Anxiety / Skills Deficit.
Spiritual Confusion.
Substance Abuse / Dependence.
Substance Induced Disorders.
Substance Intoxication / Withdrawal.
Suicidal Ideation.
Treatment Resistance.
See More
ARTHUR E. JONGSMA
, Jr., PhD, is the Executive Director of Life Guidance Services, a full service counseling center of over thirty therapists in Grand Rapids, Michigan, who provide evidenced-based treatment for children, adolescents, and adults. He is the originator and Series Editor of the PracticePlanners books and software.
DAVID J. BERGHUIS, MA, LLP, is in private practice and has worked in community mental health for more than eleven years. He is the coauthor of several books including The Severe and Persistent Mental Illness Treatment Planner.
See More