15 Secrets Every Network Marketer Must Know: Essential Elements and Skills Required to Achieve 6- and 7-Figure Success in Network Marketing
ISBN: 978-0-471-77347-4
240 pages
February 2006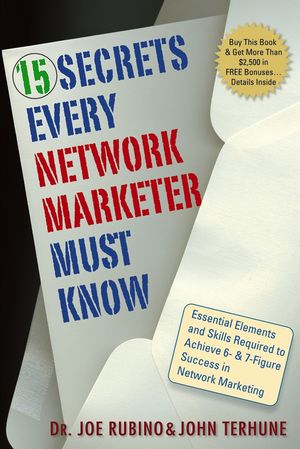 Each year in North America, more than 13 million people participate in network marketing, selling tens of billions of dollars of goods and services. The top moneymakers in the business take home six or seven figures. Wouldn't you love to know how they do it? With 15 Secrets Every Network Marketer Must Know, you will!

Written by top expert marketers Dr. Joe Rubino and John Terhune, this practical, one-of-a-kind guide explains fifteen key network marketing principles--the core secrets to unlimited success. The principles, strategies, and tactics presented in this book will help you maximize your personal effectiveness, attitude, and behavior as you build your dynasty on a solid foundation that will ensure it will last long into the future. Based on proven, time-tested strategies and the long experience of two well-known and extremely well-qualified authors, this book is an indispensable tool for every network marketer, even those just starting out.

15 Secrets Every Network Marketer Must Know will put you on the path to real wealth with step-by-step guidance on:
* Getting yourself into a successful frame of mind
* Using failure as an advantage
* Mastering self-discipline and resisting the urge to quit
* Developing long-term goals that drive your daily activities
* Building and finessing a great, moneymaking list
* Developing great leaders and associates
* Following up effectively
* And much more
See More
Foreword by Dr. Tom Ventullo.
Preface.
Acknowledgments.
The Authors.
PART ONE: GETTING IN THE RIGHT FRAME OF MIND. 
Chapter 1. The Importance of a Winning Attitude.
Chapter 2. The Power of Failure.
Chapter 3. Self-Discipline - The Single Most Important Prerequisite for Success.
Chapter 4. Why Quitting is Not an Option if You Want to Win.
Chapter 5. Making Commitments that Count.
Chapter 6. The Power of a Compelling Dream that Drives your Daily Activity.
Chapter 7. Starting Your Business with the Right Expectations.
PART TWO: MASTERING THE CRITICAL SKILLS-SET.
Chapter 8. Creating Leaders.
Chapter 9. Building a Perpetual List.
Chapter 10. List Finesse.
Chapter 11. Network Marketing is a Contact Sport.
Chapter 12. Showing your Plan Professionally.
Chapter 13. The Power of a Great Follow-Up.
Chapter 14. Starting Associates Correctly: A Recap.
Chapter 15. Creating a Life Achievement Plan.
Appendix: Personal Success Stretegy.
Recommended Readings: Other Books by Dr. Joe Rubino and John Terhune.
Network Marketing Resources.
Index.
See More
Dr. Joe Rubino
is an internationally acclaimed network marketing and personal development trainer, a life-changing success coach and author. An acclaimed speaker and course leader, he is known worldwide for his work in leadership development, enhancing listening and communication skills, life, business and network marketing coaching and team building. His books and tapes are currently available in 16 languages and in 47 countries. Joe lives in Boxford, Massachusetts. 
John Terhune is the founder and CEO of Rainmaker Consulting Services, and works with clients from around the globe. He is the author of several books and training programs, which serve as industry guideposts for Business and Network Marketing and is in the top 1/100th of 1% of all of the people who have ever come into the Network Marketing industry. John is from St. Augustine, Florida.
See More