French Verbs For Dummies
ISBN: 978-0-471-77388-7
304 pages
September 2006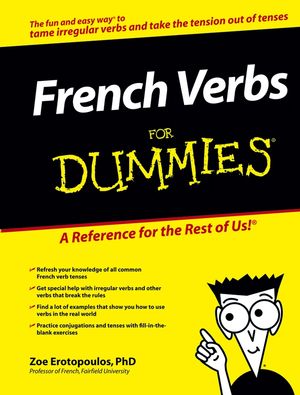 Hands-on exercises help you boost your verb proficiency
Get the hang of French verbs and get over verb hang-ups!
French verbs can drive anyone crazy who's trying to keep track of all the regular and irregular types. Fortunately, this book is here to help you make sense of confusing rules and drill you on the exceptions. Each chapter is packed with examples, exercises, and conjugation charts - just what you need to master even the toughest French verbs.
Discover how to
Review regular verbs in the present tense
Cope with common exceptions
Conjugate all simple tenses, from present indicative to past subjunctive
Tackle the trickiest irregular verbs
Conjugate compound tenses
See More
Introduction.
Part I: Living in the Here and Now: The Present Indicative.
Chapter 1: Verbs 101: The Lowdown on Verbs.
Chapter 2: Conjugating Regular Verbs in the Present Tense.
Chapter 3: Knowing How to Handle Spelling-Change Verbs.
Chapter 4: Wrestling with Some Irregular Conjugations.
Chapter 5: Reflecting on Pronominal Verbs (Reflexive, Reciprocal, and Idiomatic).
Chapter 6: Forming the Present Participle and the Gerund.
Part II: Using Verbs Correctly with Questions, Commands, and Such.
Chapter 7: Inquisitive Minds Want to Know: Asking and Answering Questions.
Chapter 8: Telling People What to Do: The Regular, Irregular, and Pronominal Commands.
Chapter 9: Looking Forward and Back: The Immediate Future and Past.
Chapter 10: Correctly Using Often Misused Verbs in Daily Conversation.
Part III: Taking a Look Back: The Past Tenses.
Chapter 11: No Tense Is Perfect: The Imperfect Tense.
Chapter 12: Comprehending the Passé Composé and the Pluperfect Tenses.
Chapter 13: Contrasting the Imperfect with the Passé Composé.
Chapter 14: Deciphering the Literary Tenses: The Passé Simple and Passé Antérieur.
Part IV: Looking Ahead: The Future and the Conditional Tenses.
Chapter 15: Moving Forward with the Future Tense.
Chapter 16: Completing a Future Action with the Future Perfect.
Chapter 17: Could-ing and Would-ing with the Present Conditional Tense.
Chapter 18: Trying the Past Conditional Tense: Could Have and Would Have.
Part V: Considering Your Mood: Subjunctive or Not.
Chapter 19: Creating the Present Subjunctive.
Chapter 20: Knowing How to Use the Present Subjunctive.
Chapter 21: Forming and Using the Past Subjunctive.
Part VI: The Part of Tens.
Chapter 22: Ten Verbs Used the French Way.
Chapter 23: Ten Most Frequently Mixed-Up Verbs.
Part VII: Appendixes.
Appendix A: French-to-English Verb Glossary.
Appendix B: English-to-French Verb Glossary.
Appendix C: Conjugating Common Irregular Verbs.
Index.
See More
Zoe Erotopoulos was born in Macedonia, Hellas (Greece) and immigrated to the United States with her parents and brother at a young age. Her love of the French language and literature inspired her to pursue her academic dream. She holds an MA, MPhil, and PhD in French and Romance Philology from Columbia University in New York City. She has also studied in Aix-en-Provence, at the Sorbonne, and at the Ecole Normale Supérieure in Paris.
Her teaching experience in French ranges from elementary to advanced level courses, including literature and theater. Dr. Erotopoulos' area of expertise is 17th century French Theater. She has taught at a number of institutions, including Columbia University, Reid Hall in Paris, and Trinity College in Hartford, Connecticut. For the past 15 years, she has been teaching in the Department of Modern Languages and Literatures at Fairfield University in Fairfield, Connecticut. She serves as coordinator and supervisor of a number of teacher assistants each year. Dr. Erotopoulos lives in Connecticut with her husband and three children.
See More
Buy Both and Save 25%!
French Verbs For Dummies (US $16.99)
-and- French Essentials For Dummies (US $9.99)
Total List Price: US $26.98
Discounted Price: US $20.23 (Save: US $6.75)
Cannot be combined with any other offers. Learn more.