Selling is Everyone's Business: What it Takes to Create a Great Salesperson
ISBN: 978-0-471-77673-4
200 pages
April 2006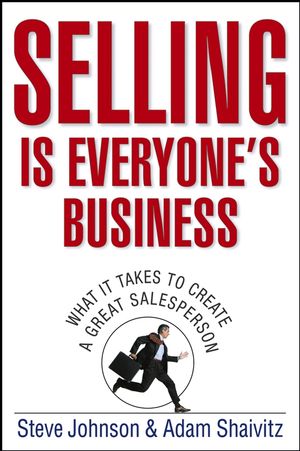 "Close your door. Shut down your e-mail. Let voice mail catch your calls. You're going to want to give this book your full attention. It'll take an hour of your time (okay, maybe two), but it may be the most fruitful hour (or two) you've ever spent. Follow the authors' advice and you can transform your career-and maybe your entire company."
-Matt Howard, Pacific Northwest Divisional Director, Premier Banking and Investments, Bank of America

"Selling Is Everyone's Business demonstrates very well the importance of not going at it alone in sales. The tools in this book will help any sales professional increase their effectiveness as a seller and as a sales coach. This step-by-step guide will help you develop a structured plan that will improve your skills and those of the teammates around you."
-Matt Darrah, Senior Vice President, North America Operations Enterprise Rent-A-Car

"I knew that I would enjoy Selling Is Everyone's Business. I saw how the authors work with sales leaders and knew they had 'street cred.' But the book surpassed my expectations. Anyone who sells for a living or coaches front-line salespeople must read this book."
-Tony Rutigliano, VP/Chief Learning Officer, Automatic Data Processing (ADP)

"I believe everyone wants to be led, regardless of ego, seniority, or expertise level. People are motivated to be led by passionate people. This coaching process gives potential leaders the prescription, tools, resources, and methodology for getting to that level of great, passionate leadership. If you don't change your behaviors after reading this book, then shame on you."
-Tom Seitz, Senior Vice President, Managing Director, Wealth Advisory Services, Piper Jaffray
See More
Acknowledgments.
Introduction.
1. Sales Coaching.
2. Planning—The Foundation of Coaching.
3. Goal-Setting Meetings.
4. Training.
5. Follow-Up—"How's It Going?"
6. Coaching in the Crunch.
7. Sales Meetings and Huddles.
8. Recognition.
9. Tying It All Together.
Index.
See More
STEVE JOHNSON and ADAM SHAIVITZ are partners in Next Level, a sales training and consulting business. With a combined fifty years of experience in the field, and having conducted training sessions with more than 500,000 salespeople and 10,000 sales coaches and sales executives, they are among the top experts in sales and sales coaching. Johnson is also the coauthor of If You're Not Out Selling, You're Being Outsold, from Wiley.
See More