Master the Media to Attract Your Ideal Clients: A Personal Marketing System for Financial Professionals
ISBN: 978-0-471-78034-2
256 pages
April 2006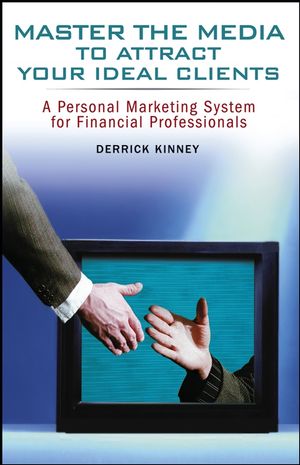 Praise for Master the Media to Attract Your Ideal Clients

"This book is a marketing masterpiece. It should be required reading for all financial professionals."
-Janine Wertheim, Chief Marketing Officer Securities America, Inc.

"Marketing is the lifeblood of any practice. The media is the most effective and cost-efficient way to market. Unfortunately, most practitioners only dream of media attention. No more-Derrick Kinney delivers on his promise to help you 'master the media.'"
-Harold Evensky, CFP author, Wealth Management

"This fast-moving, practical book gives you a step-by-step process to multiply your results and dramatically increase your exposure and name recognition. A classic!"
-Brian Tracy, President, Brian Tracy International author, Create Your Own Future

"Kinney offers an easy and effective 'how-to' approach for financial producers to gain recognition and credibility by becoming media sources. If you want to take your business to the next level, this book can help you get there."
-Gail S. Waisanen, CLU, Editor, Life Insurance Selling

"Derrick Kinney has built an effective marketing system that every advisor can use to help grow their business and attract more profitable clients."
-John J. Bowen Jr., CEO, CEG Worldwide, LLC columnist for Financial Planning
See More
Chapter One. Exploit Your Strengths.
Chapter Two. Breaking into the Media.
Chapter Three. Learn the Ropes.
Chapter Four. Be the Expert.
Chapter Five. Create the Brand.
Chapter Six. Getting the Business.
Index.
See More
DERRICK KINNEY, a Dallas/Fort Worth-based financial planner, has been named the "most recognized financial advisor" in the Dallas/Fort Worth area. Nationally, Kinney has been hailed as a "marketing guru" by Investment Advisor magazine and has been quoted by the Wall Street Journal, Forbes, Newsweek, Smart Money, Entrepreneur, CBS MarketWatch, Bloomberg Television, and numerous newspapers across the country. Locally, Kinney appears regularly on radio and TV as a financial expert. In addition to his own successful financial planning practice, Kinney runs Palladium Media Consulting, which advises financial professionals and business owners across the country on how to position themselves as experts in their local media to attract their ideal clients. A successful entrepreneur and business owner, Kinney is a popular speaker for financial firms and small business conferences across the country.
See More