Digital Portrait Photography and Lighting: Take Memorable Shots Every Time
ISBN: 978-0-471-78128-8
368 pages
July 2006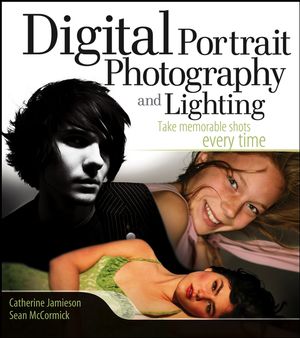 Portraits preserve people


Since the earliest portraits were scratched onto cave walls, we've developed increasingly sophisticated tools for capturing human likenesses. Yet the motivation has changed little -- to freeze a human image as an art form, a means of communication, a piece of personal history. Whether formalized with elaborate settings and lighting or snapped at the beach to hold forever the pure joy in a child's face, portraits preserve people. Today's digital technology offers flexibility, economy, and almost limitless tools for perfecting your images, and these experts help you use it.
* Discover the skills you need to move from serious amateur to professional photographer
* Learn how a snapshot differs from a casual portrait
* Identify what you want your portrait to communicate
* Investigate lighting equipment and how to use it in different scenarios
* Use natural or mixed light to create unique effects
* Explore composition, posing, and handling challenges
* Handle props, backgrounds, color, location shooting, and studio shots
* Work with groups, children, and pets
* Perfect image-editing methods and final-touch processes that produce high-quality, professional images
* Find resources that can help you in setting up your own portrait business
See More
Preface.
Acknowledgments.
Part I: Understanding Digital Portrait Photography.
Chapter 1: Exploring Portrait Photography.
Chapter 2: The Tools of the Trade.
Chapter 3: Lighting Primer.
Part II: Posing and Composing.
Chapter 4: Composing a Portrait.
Chapter 5: Posing Techniques.
Chapter 6: The Director's Chair.
Part III: Into Action: Creating Portraits.
Chapter 7: Outdoor Portraiture.
Chapter 8: Interior Existing Light Portraiture.
Chapter 9: Studio Portraiture.
Part IV: Post-Production and Presentation.
Chapter 10: The Digital Darkroom.
Chapter 11: Basic Image Editing.
Chapter 12: Finishing Touches.
Appendix A: References and Resources.
Appendix B: Going Into Business.
Index.
See More
Catherine Jamieson
operates a small commercial and portrait photography business, keeps just ahead of two college-aged children and a pair of whacky cats, publishes one of the Internet's most popular personal photography sites (www.catherinejamieson.com), is the founder and publisher of the community photography site Utata (www.utata.org), and recently authored the book
Create Your Own Photo Blog.
Catherine's work has been published in newspapers, magazines, books, encyclopedias, and atlases, as well as upon a variety of calendars, postcards, and posters.
Sean McCormick works full-time out of his studio located just outside of Kirriemuir, Alberta, Canada, where he specializes in portraiture and landscape photography. A graduate of the New York Institute of Photography, Sean is a member of the Alberta Professional Photographers Association, the Professional Photographers of Canada, and the Canadian Association for Photographic Art. Sean's images are available for licensing exclusively through CP Images, a division of the Canadian Press. Sean's photography is viewable online at his Web site, www.digiteyesed.com. Sean and his wife also publish an eZine focused on Canadian photography called Circle of Confusion.
See More