The Chemist's Companion Guide to Patent Law
ISBN: 978-0-471-78243-8
Hardcover
344 pages
August 2010
US $110.00

Add to Cart
This price is valid for United States. Change location to view local pricing and availability.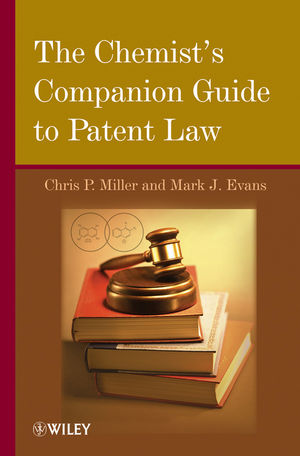 Other Available Formats:
E-book
Disclaimer
Preface.
1 Patent Basics.
1.1 Introduction.
1.2 Patents as Property.
1.3 Patent Rights Are Rights to Exclude.
1.4 Patents Do Not Convey Freedom to Operate the Invention.
1.5 Contrasting Freedom to Operate with Patentability.
1.6 Assignment and Recording of Patents.
1.7 Why Have Patents?
2 The Patent Process.
2.1 An Overview of the Patent Process in the United States.
2.2 Post Grant Procedures at the USPTO.
2.2.a Patent Maintenance Fees.
2.2.b Reissue Applications and Patents.
2.2.c Ex Parte Procedures.
2.2.d Inter Partes Procedures.
2.3 Inequitable Conduct in Patent Prosecution.
3 Prior Art and the Chemical Invention.
3.1 What is Prior Art?
3.2 Prior Art That Can Be Antedated.
3.3 Prior Art That Is an Absolute Bar.
3.4 Section 102 References in Support of Obviousness Rejections.
3.5 Double Patenting.
3.6 Obviousness-Type Double Patenting.
3.7 Prior Art Hypothetical Example 1.
3.8 Hypothetical Example 2.
4 Inventorship.
4.1 Inventorship and Ownership of U.S Patents.
4.2 Patent Validity and Correct Listing of Inventorship.
4.3 Determining Inventorship.
5 Patent Claims.
5.1 Introduction to Claim Language and Structure.
5.2 Independent and Dependent Claim Types.
5.3 Claim Structure.
5.4 Transition Phrases.
5.5 Markush Claiming in Chemical Patents.
5.6 Claim Construction.
6 Basic Requirements of Patentability: Utility.
6.1 The Six Requirements of Patentability.
6.2 Statutory Subject Matter of the Utility Requirement.
6.3 What Makes a Chemical Invention Useful?
7 Basic Requirements of Patentability: Novelty.
7.1 Requirements of the Prior Art to Defeat Novelty.
7.2 Anticipation in Chemical Patents.
7.3 Anticipation of a Claimed Genus by a Species Falling Within that Genus.
7.4 Anticipation of a Species Claim by a Prior Art Genus.
7.5 Anticipation of a Range by a Prior Art Species Falling Within that Range.
7.6 Inherent Anticipation.
8 Basic Requirements of Patentability: Nonobviousness.
8.1 The Basis for the Nonobviousness Requirement.
8.2 Understanding §103(a).
8.3 Graham Factors Analysis of Obviousness.
8.4 Focusing the Obviousness Inquiry: Prima Facie Obviousness and the Chemical Invention.
8.5 Application of the TSM Test to the Chemical Arts.
8.6 Prior Art as a Whole Must Be Considered for TSM Tests.
8.7 Obviousness and Unpredictability in the Art.
8.8 Unexpected Results as Secondary Indices of Nonobviousness.
8.8.a Unexpected Results Must Be Taught by, or Flow from the Patent Application.
8.8.b Unexpected or Superior Results Can Be Demonstrated Through a Single Property.
8.8.c Unexpected Results: Different in Degree or Different in Kind?
8.8.d The Claimed Invention Must Be Tested Against the Closest Prior Art.
8.9 Prima Facie Obviousness Based Primarily on Similarity of Chemical Structure.
8.9.a Isomers and Homologues.
8.9.b Enantiomers.
8.10 Obviousness of a Species or Genus in Light of a Prior Art Genus.
8.11 Obviousness of Ranges.
8.12 Changing the Sequence of Ingredient Addition.
8.13 Obviousness of Combining Equivalents Together for Same Known Purpose.
8.14 Substituting Equivalents Known for the Same Purpose.
8.15 Purified Forms of Compounds or Materials.
9 Basic Requirements of Patentability: Written Description, Enablement, and Best Mode.
9.1 The Written Description Requirement.
9.2 Enablement.
9.3 Best Mode.
Afterword and Sources.
Acknowledgments.
Cases Cited.
Index.