Results Rule!: Build a Culture That Blows the Competition Away
ISBN: 978-0-471-78274-2
224 pages
April 2006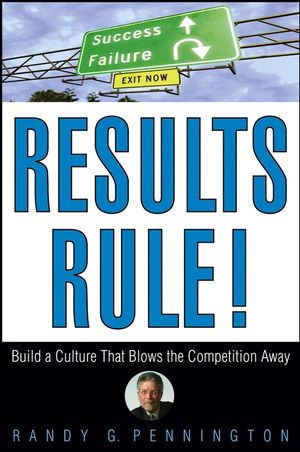 Praise for RESULTS RULE!


"What on earth could pre-thawed turkeys, Eva the dolphin, and toothpaste tubes squeezed from the middle have to do with the success of your business? Everything. Results Rule! is that rare business book that you can't put down, and you shouldn't, because the lessons within aren't just helpful, they're vitally important. Don't put Results Rule! on the stack of books you mean to read soon. Buy it, take it home, and read every word before your competitor does."
--Joe Calloway, author of Indispensable: How to Become the Company That Your Customers Can't Live Without

"Most business books give you everything you need and want to do, except the only thing that matters--getting results. This book is well written, with great examples, stories, and real advice that will actually show you how to improve your results. Buy it--read it--heed it--and watch your results improve."
--Larry Winget, author of Shut Up, Stop Whining & Get a Life

"Results Rule! delivers practical ideas that will keep your organization on course for success in a competitive marketplace. Randy Pennington offers ideas that work if you are on the frontline or in the executive suite. He has nailed the essence and importance of culture."
--Howard Putnam, former CEO, Southwest Airlines author of The Winds of Turbulence

"If you hate your competition, it's because they're beating you. If you want your competition to hate YOU--read Randy Pennington's book, and give it to all your people."
--Jeffrey Gitomer, author of The Little Red Book of Selling

"Six rock solid concepts plus real examples in a quick and easy read equal real results. A guide to differentiating your organization in the marketplace."
--M. Cass Wheeler, CEO, American Heart Association

"Randy's business savvy and expertise are evident throughout this book. His thoughtful analyses produce vital points for any business that wants to grow and thrive in the twenty-first century."
--Nido Qubein, President, High Point University Chairman, Great Harvest Bread Company

"In a very engaging, quick read, Randy Pennington cuts through the hype of most management bestsellers to propose a deceptively simple premise--a culture that never loses focus on the desired result and always wins. Pennington takes you by the hand and shows you how to take an honest look at your own organization, then act immediately to create and nurture a culture that achieves results day in and day out. Results Rule! is one of those rare books you'll keep close at hand for years to come."
--Marci Armstrong, PhD, Associate Dean, Masters Programs Cox School of Business, Southern Methodist University
See More
Preface.
Acknowledgments.
Chapter 1: It's the Culture, Stupid!
The Marketplace Speaks.
What the Best Know and Do.
32 Years and Counting.
A Results Rule! Culture.
Organizational DNA.
Change Performance to Change the Culture.
Is Your Culture in Trouble?
It's Never Just One Thing.
Everyone Leads.
Results Rules.
Chapter 2: Has-Beens, Wannabes, and Heroes.
You Know Them by Their Performance.
The Two-Year Wonders.
Are You on the Right Track?
Faulty Thinking—Faulty Assumptions.
More Faulty Assumptions.
Moving toward Hero Status.
The Pressure to Avoid the Truth.
The Courage to Keep Asking.
The Truth Begins with Open Communication.
The Open Door.
Selling Hats to Each Other.
You Can't Be All Three.
So What?
Results and Responsibility.
Can You Handle the Truth?
Results Rules.
Chapter 3: Pursue the Best over the Easiest.
The Most Important Decision You Will Make.
Three Types of Choices.
Pursuing Your Best Purpose.
The Ticket to the Party.
Poor Fundamentals Make Your Distinction Irrelevant.
If the Government Can Do It, Why Can't You?
Doesn't Everyone Want to Pursue the Best?
More than Money.
Let's Talk about People.
Talent Does Not Always Win.
Get the Sack.
The Lilly Test.
The Ultimate Choice.
I Admit It.
Disastrous Choices.
What Choice Will You Make?
Results Rules.
Chapter 4: Leverage the Power of Partnerships.
Give Me a Reason to Help You.
Give'em What They Came For and Enjoy It.
What It Means to Build a Partnership.
The Friend of Randy Pennington Card.
Employees Don't Care Either.
A Partnership Gone Bad.
Principles for Building Partnerships.
It's More than Compensation.
An Encounter at the Pool.
What Do You See?
Little Things Mean a Lot.
The Key Element Is to Show You Care.
The SGS Tool Journey.
The Importance of Trust.
The Causes of Mistrust.
What Trust Means for Your Business.
Broken Umbrellas.
Are You Willing to Fight for It?
Results Rules.
Chapter 5: Focus the Energy.
A Model to Focus the Energy.
The Walton Way.
Turning Vision into Action.
If You Believe It, Say It.
Connecting Purpose and Goals.
Creating Discipline.
If It's Important, Measure It.
Three Important Questions.
Process This!
If It's Important, Recognize and Reward It.
Skin in the Game.
It's Amazing What They Will Do.
Not Everyone Gets a Ribbon.
Tell the Story.
The Sewell Way.
Where We Go Wrong.
Results Rules.
Chapter 6: Show the Courage of Accountability.
We Know the Words.
It's about Leadership.
We Wanted to See What You Would Do.
Two Levels of Accountability.
Let's Get Personal.
Top-Down or Bottom-Up?
Pumping Water.
Holding Others Accountable.
How Do You Approach Accountability?
The Fear of Confrontation.
You Don't Fit.
Brutal Decisions Don't Mean Brutal Conversations.
The Actual Cost of Seventy-Nine-Cent Problems.
Giving People Control.
Two Types of Mistakes.
All You Need to Do Is Take Responsibility.
Results Rules.
Chapter 7: A Love Affair with Results.
Excellence Revisited.
Are You Learning from the Past?
Learning from Past Mistakes Isn't Enough.
You Believed Her?
Culture—Accelerator or Anchor?
Change Change.
Think Transition, Not Change.
What Are You Learning?
How Much Do You Care?
You Can Influence It.
Are You Willing to Walk Away?
Integrity Matters.
Is It Culture or Is It Following the Leader?
How Long Does It Take to Build a Compelling Culture?
Let Go of the Strut.
Results Rules.
Notes.
Index.
About the Author.
See More
RANDY G. PENNINGTON is a twenty-plus-year business performance veteran, author, and consultant. He has worked with government agencies, universities, and numerous businesses like Sprint PCS, LaSalle Bank, State Farm Insurance, and the Alabama Power Company. His ideas and comments have appeared in the New York Times, Entrepreneur, and Executive Excellence; on CNN, the BBC, and ABC Radio; and in numerous professional and trade journals.
See More