Textbook
Professional Baking , 5th Edition, Trade Version
ISBN: 978-0-471-78349-7
704 pages
March 2008, ©2009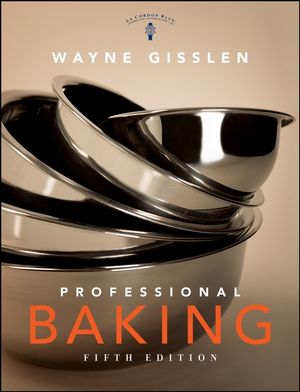 "Professi
onal Baking
by Wayne Gisslen is worth the money because this book helped me to form the foundation of my knowledge on the subject."
Amazon.com review
Professional Baking's comprehensiveness is unmatched in the market and its clear and technically accurate content provide readers with the base of knowledge that they need to further their skills.
This new edition continues to provide comprehensive coverage of the basics (bread making and cake mixing) and provides enhanced coverage of higher level techniques (pastry, chocolate, sugar work), which are becoming increasingly common in the introductory course.
See More
Recipe Contents.
About Le Cordon Bleu.
Foreword.
Preface.
Chapter 1. The Baking Profession.
Chapter 2. Basic Professional Skills: Bakeshop Math and Sanitation.
Chapter 3. Baking and Pastry Equipment.
Chapter 4. Ingredients.
Chapter 5. Basic Baking Principles.
Chapter 6. Understanding Yeast Doughs.
Chapter 7. Understanding Artisan Breads.
Chapter 8. Lean Yeast Doughs.
Chapter 9. Rich Yeast Doughs.
Chapter 10. Quick Breads.
Chapter 11. Doughnuts, Fritters, Pancakes, and Waffles.
Chapter 12. Basic Syrups, Creams, and Sauces.
Chapter 13. Pies.
Chapter 14. Pastry Basics.
Chapter 15. Tarts and Special Pastries.
Chapter 16. Cake Mixing and Baking.
Chapter 17. Assembling and Decorating Cakes.
Chapter 18. Specialty Cakes, Gâteaux, and Torten.
Chapter 19. Cookies.
Chapter 20. Custards Puddings, Mousses, and Soufflés.
Chapter 21. Frozen Desserts.
Chapter 22. Fruit Desserts.
Chapter 3. Dessert Presentation.
Chapter 24. Chocolate.
Chapter 25. Marzipan, Nouogatine, and Pastillage.
Chapter 26. Sugar Techniques.
Chapter 27. Baking for Special Diets.
Appendix 1. Large-Quantity Measurements.
Appendix 2. Metric Conversion Factors.
Appendix 3. Decimal Equivalents of Common Fractions.
Appendix 4. Approximate Volume Equivalents of Dry Foods.
Appendix 5. Temperature Calculations for Yeast Doughs.
Appendix 6. Eggs and Safety.
Glossary.
Bibliography.
Recipe Index.
Subject Index.
See More
Wayne Gisslen
is the IACP award-winning author of the bestselling series of culinary books that includes Professional Cooking, Professional Baking, Essentials of ProfessionalCooking, Advanced Professional Cooking,and The Chef's Art: Secrets of Four-StarCooking at Home, all published by Wiley. A graduate of the Culinary Institute of America,he has written and worked extensively in the field of culinary arts, with experience as a restaurant chef, test kitchen supervisor, and food and beverage consultant.
J. Gerard Smith is a freelance photographer and photo illustrator who has collaborated with Wayne Gisslen since 1980. Educated at Pratt Institute, he specializes in food, travel, and commercial photography. His work has appeared in Time, Newsweek, the New York Times Sunday Magazine, and more than 100 books.
See More