Textbook
Program Management for Improved Business Results
ISBN: 978-0-471-78354-1
576 pages
April 2007, ©2007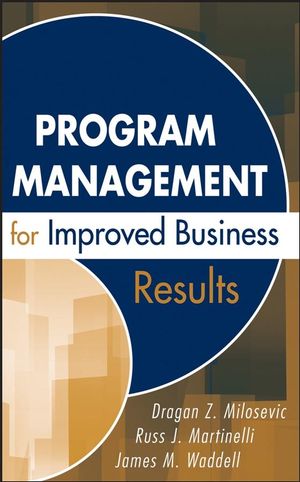 The need for information on program management is more critical now than ever before. PMIs development of a new standard on program management is driving even greater interest. At the same time, there are few books covering the subject, which provide practical answers, benchmarks, and case studies, however, this book fills the gap. The authors focus on both the macro level of integrating projects and portfolios into the business strategy and the micro level of managing a single program. It contains 6 issue-oriented cases weaved throughout the text, and an additional 5 comprehensive cases in the appendix. The result is a blueprint for the successful implementation of program management.
See More
Preface.
Acknowledgements.
PART I. IT'S ABOUT THE BUSINESS.
1. Demystifying Program Management.
2. The Business Case for Program Management
3. Aligning Programs with Business Strategy.
Program Management in Practice: LorryMer IT.
4. Managing the Whole Product.
PART II. MANAGING THE PROGRAM.
5. The Program Team.
6. Program Definition and Planning.
7. Program Execution.
8. Program Processes.
Program Management in Practice:  The Budica Program.
PART III. PROGRAM MANAGEMENT METRICS AND TOOLS.
9. Program Management Metrics.
10. Strategic Program Management Tools.
11. Operational Program Management Tools.
Program Management in Practice: Using Tools on a Mercedes.
PART IV. THE PROGRAM MANAGER.
12. Program Manager Roles and Responsibilities.
13. Program Manager Core Competencies
Program Management in Practice: Spotlight Corp.
PART V. ORGANIZING FOR PROGRAM MANAGEMENT.
14. Transitioning to Program Management.
15. The Program Management Office.
Program Management in Practice:  Trust Corporation.
PART VI. INDUSTRY EXAMPLES.
Appendix A. American Shogun
Appendix B. ConSoul Software
Appendix C. Planet Orbitz
Appendix D. General Public Hospital.
Final Thoughts on Program Management.
Index.
See More
Dragan Z. Milosevic
, PhD, PMP, is an Associate professor of engineering and technology management at Portland State University (Oregon) and a consultant with RapidInnovation, LLC (an executive consulting company) and has conducted seminars for the Project Management Institute. He has worked in this field at a wide range of companies including Intel, Hewlett-Packard, Boeing, and DaimlerChrysler.
Russ J. Martinelli is the manager of program management methodologies at Intel Corporation and a recognized expert in the field. He is also the chairman of Intel's global Program Management Community of Practice, an adjunct professor at the University of Phoenix, and the cofounder of the Program Management Academy (www.programmanagement-academy.com).
James M. Waddell, former director of program management for Tektronix, is currently an independent consultant in his fields of expertise: program management and M&A. He has held a wide spectrum of management positions, has been a speaker at numerous nationwide conferences, and is the cofounder of the Program Management Academy (www.programmanagement-academy.com).
See More
Learn more about