Make Money in Abandoned Properties: How to Identify and Buy Vacant Properties and Make a Huge Profit
ISBN: 978-0-471-78673-3
288 pages
September 2006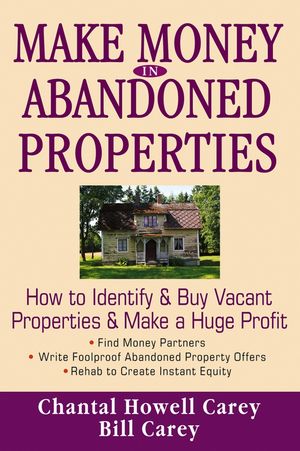 The Only Reliable, Comprehensive Guide to Investing in Abandoned Property



Make Money in Abandoned Properties provides readers with new ideas and vital techniques for every aspect of abandoned property investment, from identifying the right properties to successfully negotiating with owners. There is enormous potential in abandoned properties, and Chantal and Bill Carey explain everything you need to know to get started:
* Why owners abandon properties
* Finding abandoned properties with profit potential
* Locating owners and qualified buyers
* Writing a foolproof offer for the property
* Counter-offers and negotiations
* Negotiating with owners in foreclosure
* Financing techniques for abandoned properties
* Rehabbing abandoned properties for instant equity
* Optioning abandoned properties
* Finding motivated partners for your deals
* Investment strategies that focus on abandoned property
* Dealing with owners in bankruptcy
* Closing deals and using escrow
See More
Preface.
Introduction.
1. What Is Abandoned Property?
An abandoned property is a property from which its owners have walked away.
2. Why Do Property Owners Walk Away?
Property owners walk away from their property for three main reasons.
3. Motivated Abandoned-Property Owners.
A motivated owner is the key to making money in abandoned property.
4. How to Find Abandoned Property.
There are 10 clues to look for to fi nd abandoned property.
5. How to Locate Owners Who Have Abandoned Their Property.
There are fi ve ways to locate owners who have abandoned their property.
6. How to Write a Foolproof Abandoned-Property Offer.
There are fi ve requirements to include in a foolproof abandoned-property offer.
7. Presenting Your Abandoned-Property Offer.
Present your abandoned-property offer to have it accepted by the owners.
8. Counteroffers.
A counteroffer creates an opportunity to make an abandoned-property deal.
9. Negotiating with the Abandoned-Property Owner in Foreclosure.
Negotiate a win-win transaction.
10. Buy the Abandoned Property First, Then Get a Buyer.
Get the contract signed, then get the fi nancing.
11. Four Ways to Obtain Financing to Rehab or Hold Abandoned Property.
There are four ways to obtain fi nancing to hold or rehab abandoned property.
12. Creative Financing of Abandoned Property.
Creative fi nancing can close your abandonedproperty deal.
13. Abandoned-Property Investment Strategies.
There are two abandoned-property investment strategies.
14. Assigning Your Abandoned-Property Deals.
Assign your abandoned-property deals to make quick cash.
15. Rehab Abandoned Property to Create Instant Equity.
The key is where you spend your rehab dollars.
16. How to Option Abandoned Property.
Use an option to tie up abandoned property.
17. How to Find Motivated Partners.
Show me the money, and I'll show you the deal.
18. Bankruptcy and Other Problems.
Be aware of the abandoned-property owners filing bankruptcy.
19. Closing Your Abandoned-Property Deal.
Use an escrow to close your abandoned-property deal.
Conclusion.
Appendix A: Deeds Chart.
Appendix B: Loans Chart.
Glossary.
Index.
See More
CHANTAL HOWELL CAREY
has handled many millions in real estate sales and management as a broker, consultant, and trustee.
BILL CAREY began selling real estate in 1977, and is a former director of the San Diego Association of Realtors and the California Association of Realtors. Chantal and Bill, both members of Zonta International, are also seminar speakers and international real estate and trust consultants. Bill is a tax consultant as well. Together, they are also the authors of several other books, including The New Path to Real Estate Wealth, Quick Cash in Foreclosures, Make Money in Real Estate Tax Liens, Make Money in Short-Sale Foreclosures, and the bestselling How to Sell Your Home Without a Broker, all from Wiley.
See More
Buy Both and Save 25%!
Make Money in Abandoned Properties: How to Identify and Buy Vacant Properties and Make a Huge Profit (US $34.95)
-and- 97 Tips for Canadian Real Estate Investors 2.0 (US $30.00)
Total List Price: US $64.95
Discounted Price: US $48.71 (Save: US $16.24)
Cannot be combined with any other offers. Learn more.