E-book
ACT! 2006 For Dummies
ISBN: 978-0-471-78944-4
408 pages
March 2006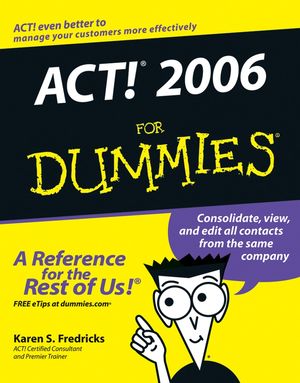 Contact management software (CRM) like ACT! are extremely valuable tools that can save you time and money. ACT! is easy to set up and takes little time to create a database, however, it is also a little bit more complex to understand than ordinary software.
ACT! 2006 For Dummies is the friendly new guide to the latest version of ACT! This straightforward, plain-English book shows you the fun and easy way to consolidate, view, and edit all contacts from your company and your life. Providing you with a general overview of ACT! and the basics, you will have the tools you need to:
Add, duplicate, and delete contacts
Remodel and customize lists and tabs
Perform contact searches
Work with ACT! notes and histories
Schedule your activities
Share, design, and merge your reports
Create contact fields
Customize your layout
Maintain and back up databases
Administer your database
Integrate ACT! with Microsoft
Take advantage of exciting opportunities
Work with ACT! Premium on the Web
Packed with both ACT! 2006 and ACT! Premium features for the Web as well as tips for making ACT! work better for you, this is the ultimate reference to cleaning up your ACT and reaching your life and business' full potential!
See More
Introduction.
Part I: The Opening ACT!
Chapter 1: An Overview of ACT!
Chapter 2: The Various Faces of ACT!
Chapter 3: Getting Your ACT! Together.
Part II: Putting the ACT! Database to Work.
Chapter 4: Making Contact(s).
Chapter 5: A Few Good Tabs and Lists.
Chapter 6: The ACT! Lookup: Searching for Your Contacts.
Chapter 7: Stamping Out the Sticky Note.
Chapter 8: Playing the Dating Game.
Part III: Sharing Your Information with Others.
Chapter 9: Using the Basic ACT! Reports.
Chapter 10: Designing Your Own Reports.
Chapter 11: Merging Your Information into a Document.
Chapter 12: ACT! E-Mail.
Part IV: Advanced ACT!ing.
Chapter 13: Creating Contact Fields.
Chapter 14: Customizing Layouts.
Chapter 15: Zen and the Art of Database Maintenance.
Chapter 16: Administering to Your Database.
Chapter 17: ACT!ing with Synchronizations.
Part V: Commonly Overlooked ACT! Features.
Chapter 18: Integrating ACT! with Microsoft.
Chapter 19: ACT!ing on Your Opportunities.
Chapter 20: Grouping Your Contacts.
Chapter 21: Joining a Company.
Chapter 22: Working with ACT! Premium for Web.
Part VI: The Part of Tens.
Chapter 23: Ten Reasons to Use ACT! Premium for Web.
Chapter 24: Ten Tips to Make ACT! Work Better.
Index.
See More
Karen S. Fredricks began her life rather non-technically growing up in Kenya. She attended high school in Beirut, Lebanon, where she developed her sense of humor while dodging bombs. After traveling all over the world, Karen ended up at the University of Florida and has been an ardent Gator fan ever since. In addition to undergraduate studies in English and accounting, Karen has a Master's degree in psycholinguistics. Beginning her career teaching high school English and theatre, Karen switched to working with the PC during its inception in the early '80s and has worked as a full-time computer consultant and trainer ever since.
Karen is an ACT! Certified Consultant, an ACT! Premier Trainer, a Microsoft Office User Specialist, and a QuickBooks Pro Certified Advisor. She is the author of both the ACT! 6 For Dummies and ACT! 2005 For Dummies books, many copywrited training manuals, and the editor of ACT! Extra, a monthly newsletter. She is a frequent guest on the several syndicated radio talk shows and has frequent public speaking engagements. A true ACT! FanACTic, she founded the ACT! Users Group of South Florida and served as the official host for the ACT! 6 Launch Tour in Florida.
See More