Polyolefin Blends
ISBN: 978-0-471-79058-7
Hardcover
667 pages
December 2007
US $202.95

Add to Cart
This price is valid for United States. Change location to view local pricing and availability.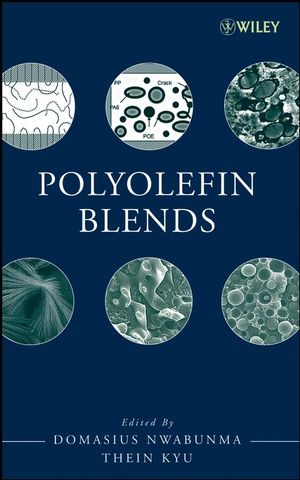 Other Available Formats:
E-book
Introduction.
1. Overview of Polyolefin Blends (Domasius Nwabunma).
Polyolefin/Polyolefin Blends.
2. Miscibility and Characteristics of Polyolefin Blends (James L. White and Jinhai Yang).
3. Miscibility, Morphology and Properties of Polyethylene Blends (Robert A. Shanks).
4. Miscibility and Crystallization of Binary Polyethylene Blends (Moonhor Ree).
5. Microscopically Viewed Structural Characteristics of Polyethylene Blends between Deuterated and Hydrogenous Species: Cocrystallization and Phase Separation (Kohji Tashiro).
6. Thermal and Structural Characterization of Binary and Ternary Blends based on Isotactic Polypropylene, Isotactic Poly (1-Butene) and Hydrogenated Oligo (Cyclopentadiene) (Maurizio Canetti).
7. Morphological Phase Diagrams of Blends of Polypropylene Isomers and Poly(ethylene octene) Copolymer (Wirunya Keawwattana, Rushikesh Matkar, and Thein Kyu).
8. Structure, Morphology and Mechanical Properties of Polyolefin Based Elastomers (Shigeyuki Toki and Benjamin S. Hsiao).
9. Morphology and Mechanical Properties in iPP/Polyolefin-Based Copolymer Blends (Koh-Hei Nitta and Masayuki Yamaguchi).
10. Functionalization of Olefinic Polymer and Copolymer Blends in the Melt (Boleslaw Jurkowski, Stepan Stepanovich Pesetskii, and Yuri Mikhailovich Krivoguz).
11. Deformation Behavior of ß-Crystalline Phase Polypropylene and its Rubber Modified Blends (Sie Chin Tjong).
12. Multiphase Polypropylene Copolymer Blends (Francis M. Mirabella).
13. Heterogeneous Materials Based on Polypropylene (Jesús Maria García Martínez, Susana Areso Capdep¢n, Jes£s Taranco González, and Emilia Pérez Collar).
14. Polypropylene/Ethylene-Propylene-Diene Terpolymer Blends (Chang-Sik Ha, Subhendu Ray Chowdhury, Gue-Hyun Kim, and Il Kim).
15. Ethylene Propylene Diene Rubber/Natural Rubber Blends (Soney C. George and Sabu Thomas).
16. Phase Field Approach to Thermodynamics and Dynamics of Phase Separation and Crystallization of Polypropylene Isomers and Ethylene Propylene Diene Terpolymer Blends (Rushikesh Matkar and Thein Kyu).
Polyolefin/Non-Polyolefin Blends.
17. Compatibilization and Crystallization of Blends of Polyolefins with a Semiflexible Liquid Crystalline Polymer (Liliya Minkova).
18. Functionalized Polyolefins and Aliphatic Polyamide Blends: Interphase Interactions, Rheology and High Elastic Properties of Melts (Boleslaw Jurkowski and Stepan Stepanovich Pesetskii).
19. Plastic Deformation and Damage Mechanisms of Ternary PP/PA6/POE Polymer Blends  (Shu-Lin Bai, Christian G?Sell, Gongtao Wang, Jean-Marie Hiver, and Min Wang).
20. Reactive Compatibilization of Binary and Ternary Blends Based on PE, PP and PS (M¢nica F. D¡az, Silvia Barbosa, and Numa J. Capiati).
21. Polyolefin/Epoxy Resin Blends (Bejoy Francis and Sabu Thomas).
Buy Both and Save 25%!
Polyolefin Blends (US $202.95)
-and- Polymers and Light (US $250.00)
Total List Price: US $452.95
Discounted Price: US $339.71 (Save: US $113.24)
Cannot be combined with any other offers. Learn more.