E-book
Geeks On Call Wireless Networking: 5-Minute Fixes
ISBN: 978-0-471-79069-3
175 pages
March 2006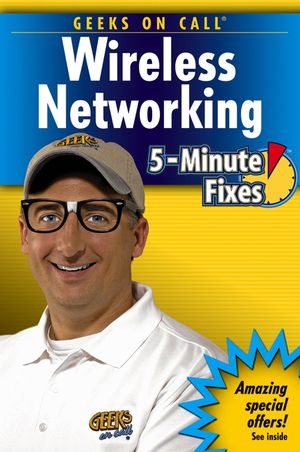 Taking the worry out of wireless
Once you get your wireless network up and running, you'll wonder how you got along without it. And you'll wonder how home and small business users survived before Geeks On Call. This book is jam-packed with simple steps, quick solutions, and basic information to make setting up and using your wireless network easier and safer than ever before. The Geeks give you the most efficient ways to build, secure, and troubleshoot a network that meets all your needs.
Know what you need before you buy
Set up and connect your network
Install and configure wireless components
Protect your wireless network
Make the most of network features
Add printers, video game adapters, and digital media players
Maintain and troubleshoot your network
Solve common problems
Geeks On Call is the premier provider of on-site computer services. The certified, trained and tested technicians from Geeks On Call provide expert computer installation and networking services, on-site repairs, security solutions and system upgrades for residential and commercial customers numbering in the hundreds of thousands each year. Founded in 1999, Geeks On Call began franchising in 2001. For more information, call 1-800-905-GEEK or visit www.geeksoncall.com. Geeks On Call franchises are independently owned and operated.
(c)2005 Geeks On Call America, Inc.
See More
Introduction.
Part I: Wireless Networking Basics.
Chapter 1: Before You Buy.
Part II: Installing Your Router and Wireless Cards.
Chapter 2: Setting Up Your Physical Network.
Chapter 3: Installing a Wireless Card.
Part III: Configuring Your Router and Wireless Cards.
Chapter 4: Configuring Your Router.
Chapter 5: Configuring Your Wireless Card.
Chapter 6: Security Settings.
Part IV: Using and Maintaining Your Network.
Chapter 7: Using Your Network.
Chapter 8: Adding Peripherals to Your Network.
Chapter 9: Maintaining Your Network.
Part V: Troubleshooting.
Chapter 10: Troubleshooting.
Glossary.
Index.
Don't Stop Now... Check Out the Gems You'll Find in Other Geeks on Call 5-Minute Fixes Titles.
See More
Geeks On Call America, Inc. (Norfolk, VA) is one of the fastest growing, corporate franchise operations providing on-site tech support to computer users at their home or small business. Established in 1999, with corporate headquarters in Norfolk, VA, GoC's franchisee growth rate is running at 100% increase annually and currently stands at 321 franchisees in 20 states and 30 major markets. GoC provides its services in branded PT Cruisers to small-to-medium-sized businesses (which comprise approximately 90% of all U.S. businesses) and residential customers.
See More