Coaching Football For Dummies
ISBN: 978-0-471-79331-1
384 pages
July 2006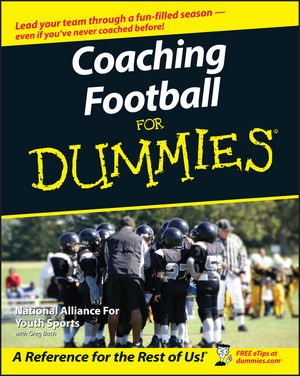 Few experiences are more rewarding than coaching a youth football team. Your journey through the season will be packed with moments that make you smile and that you and your players will remember for the rest of your lives. But what if you've never coached before?
No worries! Coaching Football For Dummies is the fun and easy way to tackle the basics of coaching youth football. This friendly guide shows you how to teach your players effectively, regardless of their age or skill level, and lead your team to victory—even if you're a first-time coach. You'll discover how to:
Develop a coaching philosophy
Teach football fundamentals
Encourage good sportsmanship
Improve your team's skills
Ensure safety on the field
Communicate effectively with parents
Packed with valuable information on preparing your game plan before you even step on the field, this hands-on resource gives you expert guidance in building your coaching skills, from evaluating your players and running enjoyable, productive practices to working with all types of kids—uncoordinated, shy, highly talented—at once. You'll find a variety of fun-filled drills for teaching everything from tackling and blocking to running and catching, as well as advanced drills to take your players' skills up a notch. You'll also see how to:
Conduct a preseason parents' meeting—an often overlooked aspect of coaching
Gather the necessary gear and fit the equipment to your players
Raise the level of play on offense, defense, and special teams
Take steps to avoid injuries
Deal with discipline issues and problem parents
Make critical half-time adjustments
Transition to coaching an All-Star Team
Complete with tips for working with parents, keeping your players healthy, and leading your team effectively on game days, Coaching Football For Dummies is all you need—besides a whistle and a clipboard—to navigate your players through a safe, fun, rewarding season!
See More
Introduction.
Part I: Kids' Play: Getting Started Coaching Football.
Chapter 1: Teaching Football to Children.
Chapter 2: Preparing for a Fun and Successful Season.
Chapter 3: Tackling the Football Basics.
Chapter 4: Meet the Parents.
Part II: Building Your Football Coaching Skills.
Chapter 5: Evaluating Your Team.
Chapter 6: Running a Great Practice.
Chapter 7: Game Day.
Chapter 8: Refining Your Coaching Strategies.
Part III: Working with Beginning and Intermediate Players.
Chapter 9: Offensive Fundamentals.
Chapter 10: Defensive and Special Teams Fundamentals.
Chapter 11: Fundamental Warm-Ups and Drills for Beginners.
Chapter 12: Coaching Football Offense 101.
Chapter 13: Coaching Football Defense 101.
Chapter 14: Taking Your Drills to the Next Level.
Part IV: Advanced Football Strategies.
Chapter 15: Coaching Offense 201.
Chapter 16: Coaching Defense 201.
Chapter 17: Coaching Special Teams.
Chapter 18: Implementing Advanced Drills.
Part V: The Extra Points.
Chapter 19: Keeping Your Players Healthy.
Chapter 20: Challenges Every Coach Faces.
Chapter 21: Coaching an All-Star Team.
Part VI: The Part of Tens.
Chapter 22: (Almost) Ten Ways to Make the Season Memorable.
Chapter 23: Ten Fun Ways to End the Season on a High Note.
Index.
See More
The
National Alliance For Youth Sports
has been America's leading advocate for positive and safe sports for children for the past 25 years. It serves volunteer coaches, parents with children involved in organized sports, game officials, youth sports administrators, league directors, and the youngsters who participate in organized sports. The Alliance's programs are utilized in more than 3,000 communities nationwide by parks and recreation departments, Boys & Girls Clubs, Police Athletic Leagues, YMCAs/YWCAs, and various independent youth service groups, as well as on military installations worldwide. For more information on the Alliance's programs, which are listed below, visit www.nays.org.
National Youth Sports Coaches Association — More than 2 million volunteer coaches have been trained through NYSCA, which provides training, support, and continuing education.
Parents Association for Youth Sports — Parents gain a clear understanding of their roles and responsibilities in youth sports through this sportsmanship training program, which is used in more than 500 communities nationwide.
Academy for Youth Sports Administrators — More than 2,000 administrators worldwide have gone through the Academy, which is a 20-hour certification program that raises the professionalism of those delivering youth sport services. A professional faculty presents the information, and participants earn Continuing Education Units (CEUs).
National Youth Sports Administrators Association — This program provides training, information, and resources for volunteer administrators responsible for the planning and implementation of out-of-school sports programs.
National Youth Sports Officials Association — Officials who go through this certification program gain valuable knowledge on skills, fundamentals, and the characteristics that every good official must possess.
Start Smart Sports Development Program — This proven instructional program prepares children for the world of organized sports without the threat of competition or the fear of getting hurt through an innovative approach that promotes parent-child bonding.
Hook A Kid On Golf — Thousands of children of all ages and skill levels tee it up every year in the nation's most comprehensive junior golf development program, which features an array of instructional clinics and tournaments to choose from.
Game On! Youth Sports — This worldwide effort introduces children to actual game experience by giving them the freedom to create and play on their own.
Greg Bach is the communications director for the National Alliance For Youth Sports, a position he has held since 1993. Before joining NAYS, he worked as the sports editor of the Huron Daily Tribune in Bad Axe, Michigan, where he captured numerous writing awards from the Associated Press, Michigan Press Association, and the Hearst Corporation. He has a journalism degree from Michigan State University, which he earned in 1989. He's an avid sports fan and has coached a variety of youth sports. He also wrote Coaching Soccer For Dummies.
See More