Textbook
RFID Applied
ISBN: 978-0-471-79365-6
528 pages
March 2007, ©2007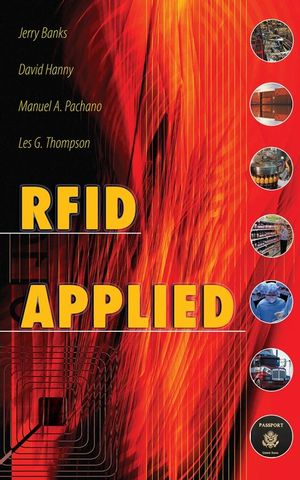 Radio frequency identification or RFID is a broad-based technology that impacts business and society.  With the rapid expansion of the use of this technology in everything from consumer purchases to security ID tags, to tracking bird migration, there is very little information available in book form that targets the widest range of the potential market. But this book is different!  Where most of the books available cover specific technical underpinnings of RFID or specific segments of the market, this co-authored book by both academic and industry professionals, provides a broad background on the technology and the various applications of RFID around the world.  Coverage is mainly non-technical, more business related for the broadest user base, however there are sections that step into the technical aspects for advanced, more technical readers.
See More
Foreword.
Preface.
Acknowledgements.
Trademarks.
Part A RFID Applied.
Chapter 1 The Stage Is Set.
Chapter 2 Past, Present, and Future of RFID.
Chapter 3 Basics of RFID.
Chapter 4 Beyond the Basics.
Chapter 5 Recent Advances in the Technology.
Chapter 6 The Business Case for RFID.
Chapter 7 Industry Standards.
Chapter 8 System Components.
Chapter 9 Integration.
Chapter 10 The Issues of Privacy and Security.
Epilogue.
Part B Applications in 10 Areas.
RFID in the Automotive Industry.
RFID in Cattle Ranching.
RFID in Health Care.
RFID in Manufacturing.
RFID in Marine Terminal Operation.
RFID in the Military.
RFID in Payment Transactions.
RFID in Retailing.
RFID in Transportation.
RFID in Warehousing and Distribution Systems.
Part C RFID Activities in 10 Countries.
RFID in Australia.
RFID in China.
RFID in France.
RFID in Germany.
RFID in Japan.
RFID in Singapore.
RFID in South Korea.
RFID in Spain.
RFID in the United Kingdom.
RFID in the United States.
Appendix A 10 Unique Applications.
Appendix B 10 Useful Web Sites.
Index.
See More
Jerry Banks
retired as a professor in the School of Industrial and Systems Engineering at Georgia Institute of Technology. His major area of interest is discrete-event simulation. He teaches short courses in simulation and in supply chain management throughout the world. So much material on RFID made its way into his short course on supply chain management that he decided to explore the opportunity for a book on the topic. You are looking at the result!
David Hanny is the Industry Director for Semiconductor and High Tech for Brooks Software. He has led implementations of RFID, factory automation, and automated material handling systems since 1996. Many teams under his direction deploy products and provide services and support for leading electronics manufacturing companies across the globe.
Manuel A. Pachano is a graduate of the School of Industrial and Systems Engineering at Georgia Institute of Technology and the University of Florida. His role as Chief Technology Officer of four companies has always involved him in the design and implementation of leading-edge technologies, RFID being the latest of these. Manuel has been directly involved in the deployment of RFID solutions in industries such as the healthcare industry, the automotive industry, and others.
Les G. Thompson, a graduate of the University of Georgia with a degree in computer science, is the Chief Technical Officer of Lost Recovery Network, Inc. His broad technical background, ranging from wireless device development to large-scale enterprise architecture, led him to the world of RFID. Leveraging his wireless and enterprise expertise, Les has been developing real-world RFID solutions since the beginning of 2004.
See More