E-book
SAP Foreign Currency Revaluation: FAS 52 and GAAP Requirements
ISBN: 978-0-471-79478-3
216 pages
March 2006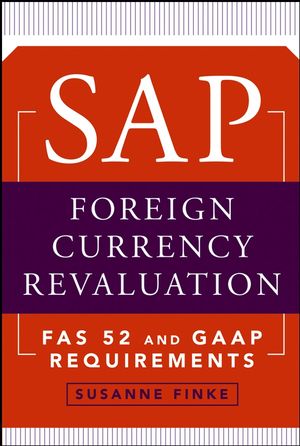 "SAP Foreign Currency Revaluation-regulations, its impact, and what it takes to implement it in SAP-is a single handbook that simplifies a complex and daunting task of currency valuation for SAP and other ERP implementers. A must-read!"
-Kalpesh Khandhadia, SAP Consultant, Linksoft-IT Inc.

"Following the process presented in this book, we eliminated the hours we spent each month manually reviewing and adjusting our global currency financial statements. Thank you Susanne Finke, for making this complicated topic understandable!"
-Ron Roberts, Process Lead, Financial Systems, Hollister Inc.

"It's great to see all the foreign currency information captured in one place and spelled out so clearly. Great job!"
-Nadean L. Moore, SAP FI Consultant, Moore Consulting

"This SAP Foreign Currency Revaluation book . . . covers the necessary SAP tables and transactions for revaluation and provides excellent examples of the SAP entries. A well-written book."
-Dave Paz, SAP Consultant, DLP Consulting LLC

With essential information on the proper rules and regulations needed to comply with FAS 52, SAP Foreign Currency Revaluation: FAS 52 and GAAP Requirements is a valuable reference for controllers, CFOs, IT and accounting managers, and SAP consultants who are involved in FAS 52 compliance projects, regardless of whether their companies are using SAP, Oracle, PeopleSoft, or proprietary software.

Its detailed coverage of statutory requirements, business execution of currency revaluation in SAP, and SAP configuration walks readers through:
* The U.S. accounting statutory requirements, net income, organizational, and financial consolidation impacts
* An overview of currency revaluation with discussion of stock transfer and tax implications
* FAS 52 requirements for currency exchange rates and translation
* Corporate standards for G/L indicators that are impacted by currency revaluation
* Three methods available to execute currency revaluation and their differences
* One of the newer ways the SAP R/3 software provides users to execute currency revaluation
* The SAP configuration to implement currency revaluation
* Setting up custom variants to view the critical fields used in the currency revaluation
See More
Preface
Acknowledgement
1. U.S. Accounting Requirements.
2. Sap Revaluation Overview.
3. G/L Account Indicator Impact.
4. Revaluation without Valuation Areas.
5. Revaluation with Full Valuation Areas.
6. Revaluation with ONE Valuation Area.
7. Common Revaluation Configuration.
8. Valuation Variant Set Up.
List/Calculation Variant.
Appendix.
References.
Glossary.
Index.
See More
Susanne Finke has over twenty-three years of business experience and over twelve years of SAP experience in all aspects of finance, controlling (internal financial management), treasury, and fixed assets. She has been an SAP consultant for nine years, including three years with PricewaterhouseCoopers. She is certified by SAP in the SAP Finance Module. With clients including PricewaterhouseCoopers, eBay, Suncor, Tyco, SunAmerica, Kellogg, Hollister, Zurich Energy, and British Petroleum (BP), she has vast experience to prepare companies in complying with FAS 52.
See More