La Internet Para Dummies, 10a Edición (Spanish Edition)
ISBN: 978-0-471-79946-7
408 pages
April 2006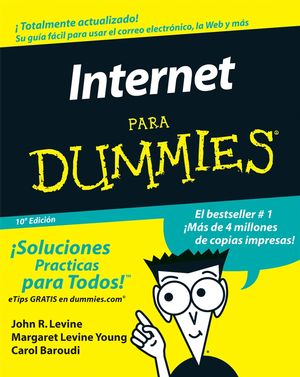 Acceda al mundo en línea con la edición más nueva del recurso más vendido para el uso del internet
La 10ª edición de La Internet Para Dummies está revisada para cubrir los aspectos básicos de la Internet para empezar a hacer cosas. Descubra cómo hacer una conexión a Internet, crear una cuenta de correo electrónico, la búsqueda y la investigación en línea, uso de las comunicaciones, la construcción de comunidades en línea con los blogs y las redes sociales, y establecer una página web en la Internet.
Incluye una amplia cobertura de conexiones de banda ancha, conexión inalámbrica, y de los blogs
Ofrece nueva información sobre compra y pago de artículos en línea, y otras actividades cotidianas
Discute temas importantes tales como la privacidad en línea
Esta edición ha sido completamente revisada para que usted pueda tomar ventaja completa del internet hoy en día.
ENGLISH DESCRIPTION
Access the online world with the newest edition of the bestselling resource for the Internet
The 10th edition of La Internet Para Dummies is revised to cover the basics of the Internet from getting started to getting things done. Discover how to make an Internet connection, set up an e-mail account, search and research online, use communications, online community building with Blogs and social sites, and set up a Web page, with the Internet.
Includes expanded coverage on broadband connections, wireless connection, and blogging
Offers new information on shopping and paying for things online, and other everyday tasks
Discusses important issues such as online privacy
This edition has been fully revised so you can take full advantage of the Internet today.
See More
Introducción.
PARTE I: Bienvenido a Internet.
Capítulo 1: ¿Qué es Internet y por qué le puede interesar?
Capítulo 2: Virus, programmas espías, correo no deseado (spam) y otros asuntos molestos.
Capítulo 3: Los Niños y la red.
Parte II: Internet, ¡aquí voy!
Capítulo 4: Entrar a la red: ¿qué necesita para estar en línea?
Capítulo 5: Compartir su conexión a Internet.
Parte III: Obsesión por la web.
Capítulo 6: Bienvenido al mundo salvaje y maravilloso de la web.
Capítulo 7: Ir de paseo con el explorador.
Capítulo 8: La aguja en el pajar: encontrar casi todo en la red.
Capítulo 9: Música y video en la web.
Capítulo 10: Más compras, menos caídas.
Capítulo 11: Asuntos bancarios, pago de recibos e inveriones en línea.
Capítulo 12: Obtener archivos de la red.
Parte IV: Correo electrónico, chat y otras formas de comunicarse en linea.
Capítulo 13: Enviar y recibir correo electrónico.
Capítulo 14: Correo seguro: Virus, Spam y WiFi.
Capítulo 15: Colocar el correo en su lugar.
Capítulo 16: Escribir y hablar en la red.
Parte V: Actividades avanzadas en Internet.
Capítulo 17: Configurar un Sitio web.
Capítulo 18: Todo el mundo es un blog.
Parte VI: La parte de los diez más.
Capítulo 19: Diez problemas y diez soluciones.
Capítulo 20: Diez tipos de archivos y qué hacer con ellos.
Capítulo 21: Diez cosas divertidas que puede hacer en línea.
Glosario.
Indice.
See More
John R. Levine
fue miembro de un club de informática en la secundaria, antes de que los estudiantes de secundaria o incluso las escuelas tuvieran equipo de cómputo. Fue ahí donde conoció a Theodor H. Nelson, el autor de Computer Lib/Dream Machines e inventor del hipertexto, quien nos recordó que las PC no deberían tomarse en serio y ue todas las personas pueden y deben comprenderlas y usarlas.
Carol Baroudi comenzó a jugar con PC en 1971 en la Universidad de Colgate, donde había dos novedades: el PDP-10y las mujeres. Tuvo suerte de tener acceso ilimitado a lo último en PDP-10, donde aprendió a programar, operar la máquina y a hablar con Eliza (una psiquiatra en la computadora). Enseñó ALGOL y ayudó a diseñar el currículo de computación y de estudios de la mujer. Se ggraduó en español y estudió francés, el cual, gracias a Internet, ahora puede usar todos los dìas.
En la secundaria, Margaret Levine Young estuvo en el mismo club de informática que su hermano mayor, John. Permaneció en el campo durante su tiempo en la universidad en contra de su mejor juicio y a pesar de la presencia de John como estudiate de postgrado en el departamento de Computación. Margy se graduó de Yale y siguió adelante hasta convertirse en una de las primeras administradoras de PC a principios de 1980 en Columbia Pictures, donde compartió el elevador con grandes estrellas cuyos nombres ni siquiera soñaría con mencionar aquí.
See More