Self-Publishing For Dummies
ISBN: 978-0-471-79952-8
388 pages
September 2006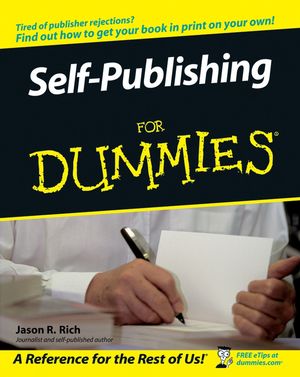 Covers budgeting, copyrighting, and marketing



Know the pros and cons of self-publishing and get your work in print

Thinking about self-publishing your book? This no-nonsense guide walks you through the entire process of going it alone, from preparing your manuscript and creating the perfect title to selling the final product. You'll see how to obtain an ISBN, work with printers and distributors, create a buzz with publicity, and take advantage of electronic publishing.

Discover how to
* Start your own publishing company
* Edit your work effectively
* Design and format your book
* Hire skilled professionals to help
* Manage outside vendors
* Build awareness for your book online
See More
Introduction.
Part I: Do It Yourself: Getting Started with Self-Publishing.
Chapter 1: Welcome to Self-Publishing!
Chapter 2: Understanding the Pros and Cons of Self-Publishing.
Chapter 3: Equipping Yourself with the Write Stuff.
Chapter 4: Creating a Winning Manuscript.
Chapter 5: Fine-Tuning Your Work with Careful Editing.
Part II: Pulling Together the Details: Administration and Design.
Chapter 6: Setting Up Your Self-Publishing Business.
Chapter 7: Tackling Book-Specific Tasks.
Chapter 8: Coming Up with Creative Page Design and Layout.
Chapter 9: Judging a Book by Its Cover.
Part III: Start the Presses! Examining Printing Choices.
Chapter 10: Trying Out Traditional Offset Printing.
Chapter 11: Print-On-Demand for Demanding Self-Publishers.
Chapter 12: Checking Out Some Non-Traditional Printing Options.
Chapter 13: Working Successfully with Any Printer.
Part IV: Making Your Book a Bestseller: Distribution Methods.
Chapter 14: Selling Your Book through Popular Online Booksellers.
Chapter 15: Distributing Your Book through Traditional Channels.
Chapter 16: Getting a Grip on Warehousing, Order Fulfillment, and Shipping.
Chapter 17: Selling Your Book to the Big Boys for Better Distribution.
Part V: Creating a Buzz: Publicity and Marketing.
Chapter 18: Crafting Publicity Materials for Your Book.
Chapter 19: Publicizing Your Book for Free with the Media's Help.
Chapter 20: Marketing Your Book with Paid Advertising and Promotional Tools.
Chapter 21: Maximizing Your Marketing Power in Cyberspace.
Chapter 22: Expanding Your Income with Spin-Off Products and Services.
Part VI: The Part of Tens.
Chapter 23: Ten Self-Publishing Mistakes to Avoid.
Chapter 24: Ten Useful Resources for Self-Publishers.
Index.
See More
Jason R. Rich is the bestselling author of more than 32 books, including a few self-published titles. He has also ghostwritten several additional books for business leaders and well-known experts in their field. As a journalist, Jason continues to contribute articles to numerous national magazines and major daily newspapers, and he works as a freelance public relations and marketing consultant for companies in a variety of industries.
Some of Jason's recently published books include The Unofficial Guide to Starting a Business Online, 2nd Edition (Wiley); Pampering Your Pooch: Discover What Your Dog Needs, Wants, and Loves (Howell Book House); The Everything Family Travel Guide to Walt Disney World, Universal Studios, and Greater Orlando, 4th Edition (Adams Media); and American Idol Season 4: Official Behind-the-Scenes Fan Book (Prima/Random House). Jason is also writing a series of personal finance guides for Entrepreneur Press, the publishers of Entrepreneur magazine. His most recent self-published book is The Bachelor's Guide to Life (iUniverse).
See More