Paralegal Career For Dummies
ISBN: 978-0-471-79956-6
384 pages
July 2006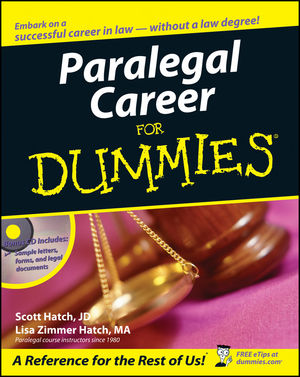 Apply important legal concepts and skills you need to succeed



Get educated, land a job, and start making money now!

Want a new career as a paralegal but don't know where to start? Relax! Paralegal Career For Dummies is the practical, hands-on guide to all the basics -- from getting certified to landing a job and getting ahead. Inside, you'll find all the tools you need to succeed, including a CD packed with sample memos, forms, letters, and more!

Discover how to
* Secure your ideal paralegal position
* Pick the right area of the law for you
* Prepare documents for litigation
* Conduct legal research
* Manage a typical law office


Sample resumes, letters, forms, legal documents, and links to online legal resources.

Please see the CD-ROM appendix for details and complete system requirements.
See More
Introduction 1
Part I: A Snapshot of the Exciting and Lucrative Paralegal Profession 7
Chapter 1: Discovering the Paralegal Profession 9
Chapter 2: Membership Has Its Privileges: Paralegal Associations and Their Certification Exams 21
Chapter 3: The Hunt Is On: Securing a Paralegal Position 27
Part II: Important Legal Concepts Every Paralegal Should Know 37
Chapter 4: "All Rise": The American Judicial System 39
Chapter 5: The Big Three: Categories of Law 57
Chapter 6: Taking a Case to Trial: The Litigation Process 79
Chapter 7: How It's Done: Important Rules of Civil Procedure and Evidence 99
Chapter 8: Because I Said So: The Categories of Legal Authority 115
Chapter 9: The Substantive Law Areas Most Commonly Practiced by Paralegals 123
Part III: Putting It into Practice: The Paralegal in the Civil Litigation Process 137
Chapter 10: The Paper Chase: Preparing Documents 139
Chapter 11: Elementary My Dear Watson: Legal Investigation 167
Chapter 12: Chewing the Fat: Legal Interviewing 179
Chapter 13: Burning the Midnight Oil: Legal Research 193
Chapter 14: Where the Rubber Hits the Road: Trial Performance 211
Chapter 15: The Official Word: Ethical Codes for Legal Professionals 225
Part IV: Skills Paralegals Need to Soar Ahead 239
Chapter 16: Write On: Presenting a Clear, Concise Legal Writing Style 241
Chapter 17: The Latest Thing: Using Technology in Law 269
Chapter 18: Law Office Management 101 281
Part V: The Part of Tens 293
Chapter 19: The Ten Most Important Rules of Ethics 295
Chapter 20: Ten Things Every Paralegal Should Know 299
Chapter 21: Ten Survival Tips to Thrive in the Legal Environment 303
Part VI: Appendixes 307
Appendix A: Glossary of Important Legal Terms: A Mini Legal Dictionary 309
Appendix B: About the CD 335
Index 347
See More
Scott Hatch, JD, and Lisa Zimmer Hatch, MA, are founders and administrators of The Center for Legal Studies, which offers training and certificate courses, including paralegal certificate courses, to thousands of people through hundreds of colleges and universities every year.
See More