Biostatistics in Clinical Trials
ISBN: 978-0-471-82211-0
Hardcover
522 pages
April 2001
US $615.00

Add to Cart
This price is valid for United States. Change location to view local pricing and availability.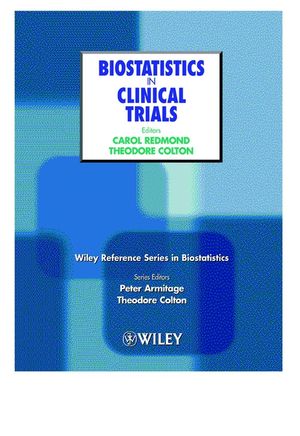 Adaptive and Dynamic Methods of Treatment Assignment.

Antibacterial Agent Trials.

Audit and Quality Control.

Bayesian Methods.

Benefit/Risk Assessment.

Binding or Masking.

Clinical Significance Versus Statistical Significance.

Clinical Trials, Overview.

Cluster Randomization.

Cochrane Collaboration.

Community Intervention Trials.

Compliance Assessment.

CONSORT.

Controlled Clinical Trials.

Cooperative Cancer Trials.

Cooperative Heart Disease Trials.

Cooperative Studies Program, US Department of Veterans Affairs.

Cost-effectiveness.

Covariate Imbalance, Adjustment for.

Crossover Designs.

Data and Safety Monitoring.

Data and Safety Monitoring Boards.

Data Management and Coordination.

Drug Approval and Regulation.

Drug Interactions.

Eligibility and Exclusion Criteria.

Equivalence Trials.

Ethics.

European Federation of Statisticians in the Pharmaceutical Industry (EFPSI).

European Organization for Research and Treatment of Cancer (EORTC).

Factorial Designs.

Fraud.

Group-randomization Designs.

Guidelines.

Historical Controls, Bias From.

History, Early Cancer and Heart Disease Trials.

History, Overview.

Intention-to-Treat Analysis.

International Studies of Infarct Survival (ISIS).

Medical Ethics and Statistics.

Medical Research Council (MRC) Streptomycin Trial.

Meta-analysis.

Missing Data.

Multicenter Trials.

Multiple Endpoints.

Multiplicity.

Noncompliance, Adjustment for.

Nonrandomized Trials.

NSABP and Advances in the Treatment of Breast Cancer.

Number Needed to Treat (NNT).

Outcome Measures.

Pharmaceutical Industry, Statistics in.

Phase I Trials.

Phase II Trials.

Physicians' Health Study.

Postmarketing Surveillance of New Drugs and Assessment of Risk.

Preclinical Treatment Evaluation.

Prevention Trials.

Protocols.

QUOROM.

Randomization.

Randomized Treatment Assignment.

Salk Vaccine.

Sample Size Determination.

Screening Trials.

Sequential Methods.

Society for Clinical Trials.

Software.

Statistical Review for Medical Journals.

Statistical Review for Medical Journals, Guidelines for Authors.

Statisticians in the Pharmaceutical Industry (PSI).

Surrogate Endpoints.

Textbooks.

Time-varying Treatment Effect.

Treatment--Covariate Interaction.

University Group Diabetes Program (UGDP).

Vaccine Studies.