Techniques for Characterization of Electrodes and Electrochemical Processes
ISBN: 978-0-471-82499-2
800 pages
June 1991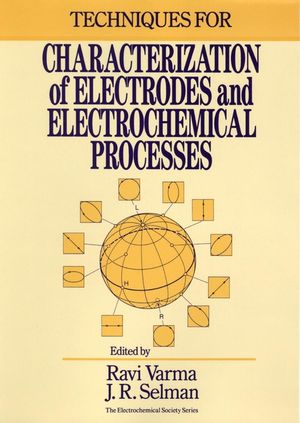 Written by leading authorities in their respective fields, it presents review articles on in situ or quasi-in situ techniques for the characterization of electrodes and electrochemical processes--appropriate for surface or bulk phase analysis. Divided into two sections covering in situ monitoring and characterization of structure and compositions of electrodes, electrolytes and products during electrolysis in Part A, and electrochemical techniques and theoretical-modeling tools in Part B.
See More
Partial table of contents:

STRUCTURE AND COMPOSITION OF ELECTRODES AND ELECTROLYTES.

Techniques for the Study of Solid Ionic Conductors (J. Wagner).

In Situ Characterization of Electrode Processes by Photothermal Deflection Spectroscopy (J. Rudnicki, et al.).

Surface-Enhanced Raman Spectroscopy (R. Birke, et al.).

Diffraction Techniques for Determining the Structure of Electrolytes in the Liquid Phase (J. Enderby).

Laser Interferometry Study of Mass Transport Limitation in Electrodeposition of Metals/Polymers (K. Santhanam & R. O'Brien).

ELECTROCHEMICAL MEASUREMENT TECHNIQUES.

Application of Electrochemical Impedance Spectroscopy in Electrochemistry and Corrosion Science (D. Macdonald).

Numerical Techniques for Modeling Current Distribution at Plane and Flow-by Electrodes (G. Prentice).

Techniques for Nucleation Analysis in Metal Electrodeposition (T. Vargas & R. Varma).

Index.
See More
About the editors RAVI VARMA is a member of the technical staff and project leader in the Materials Science and Technology Division at the Los Alamos National Laboratory. His current research interests are in ceramics processing, electrochemical corrosion, and waste remediation. As Senior Material Scientist at SRI International, he was responsible for results in areas of microwave-enhanced catalysis and diamond films. He contributed to battery development, metal and composite electro-deposition,and waste remediation technologies at Argonne National Laboratory. He has published several books and more than 100 research articles. He has several patents to his credit. J. R. SELMAN is Professor of Chemical Engineering at the Illinois Institute of Technology, Chicago. He has pursued a number of research interests, such as high temperature batteries, fuel cells performance, and electrodeposition of metals from fused salts. He has many publications, book chapters, and several patents to his credit.
See More