Market Trading Tactics: Beating the Odds Through Technical Analysis and Money Management
ISBN: 978-0-471-84663-5
368 pages
July 2000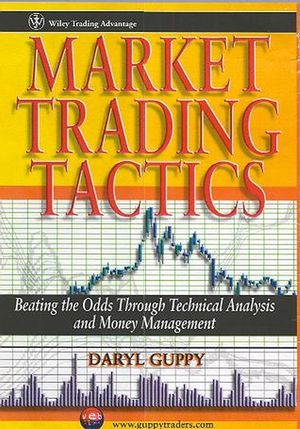 A veteran hockey writer takes on hockey culture and the NHL--addressing the games most controversial issue Whether its on-ice fist fights or head shots into the glass, hockey has become a nightly news spectacle--with players pummeling and bashing each other across the ice like drunken gladiators. And while the NHL may actually condone on-ice violence as a ticket draw, diehard hockey fan and expert Adam Proteau argues against hockeys transformation into a thuggish blood sport. In Fighting the Good Fight, Proteau sheds light on the many perspectives of those in and around the game, with interviews of current and former NHL stars, coaches, general managers, and league executives, as well as medical experts. One of the most well-known media figures on the hockey scene today, famous for his funny, feisty observations as a writer for the Toronto Star and The Hockey News and commentator on CBC radio and TV, Adam Proteau is also one of the few mainstream media voices who is vehemently anti-fighting in hockey. Not only is his book a plea to the games gatekeepers to finally clamp down on the runaway violence that permeates the sport even at its highest level, he offers realistic suggestions on ways to finally clean the game up. • Includes interviews with medical experts on head injuries and concussions, as well as with other members of the media • The author not only wages an attack on the value of fighting in hockey--but also on the establishment hockey culture Covering the most polarizing issue in hockey today, Fighting the Good Fight gives hockey fans and sports lovers everywhere a reason to stamp their feet and whistle--at a rare display of eloquence and common sense. WebCatUpdater-Profile_26@1326742171896
See More
The Author xi Introduction xiii PART ONE The Chairs Role and Career Path 1. In the Trenches 3 2. Preparing for the Chairs Role 14 3. Assessing What Kind of Department Chair You Are 23 4. Serving as an Untenured Department Chair 34 5. Coexisting with a Former Chair 41 6. Creating a Career Plan 49 7. Returning to the Faculty 58 8. Seeking Higher Administrative Positions 66 9. A Scenario Analysis on the Chairs Role and Career Path 75 PART TWO Departmental Management and Politics 10. Understanding Departmental Ethics and Politics 85 11. Chairing Small Departments 92 12. Chairing Large Departments 99 13. Setting Course Rotations and Schedules 108 14. Making Decisions 114 15. Setting Annual Themes 124 16. Creating Departmental Centers for Excellence in Teaching and Learning 132 17. A Scenario Analysis on Departmental Management and Politics 142 PART THREE The Chairs Role in Searches, Hiring, and Firing 18. Writing Job Descriptions and Position Announcements 157 19. Understanding the Chairs Role in the Search Process 168 20. Interviewing Candidates 176 21. Letting Someone Go 188 22. A Scenario Analysis on Hiring and Firing 196 PART FOUR Mentoring Challenges and Opportunities for Department Chairs 23. Helping Faculty Members Sharpen Their Focus 205 24. Coaching Faculty Members to Increase Productivity 211 25. Promoting a More Collegial Department 217 26. Coping with Passive-Aggressive Behavior 224 27. Resolving Chronic Complaints 231 28. Addressing Staff Conflicts 240 29. Overcoming Conflicts 247 30. A Scenario Analysis onMentoring Challenges 257 PART FIVE The Chairs Role in Faculty Development 31. Facilitating a Positive First-Year Faculty Experience 267 32. Coaching Faculty in Writing Effective Resumes 274 33. Creating an Effective Professional Development Plan 279 34. Creating an Effective Teaching Portfolio 290 35. Creating an Effective Course Syllabus 302 36. Promoting Creativity in Teaching and Learning 309 37. A Scenario Analysis on Faculty Development 317 PART SIX Best Practices in Evaluation and Assessment 38. Creating Written Evaluations 327 39. Conducting Oral Evaluation Sessions 337 40. Writing Letters of Recommendation 343 41. Doing Assessment Effectively 352 42. Conducting Program Reviews 364 43. Conducting Posttenure Reviews 380 44. A Scenario Analysis on Evaluation and Assessment 389 PART SEVEN Essentials of Budgeting and Planning 45. Strategic Planning 401 46. Planning a Budget 411 47. Implementing a Budget 418 48. Fundraising 425 49. Accounting for Sponsored Research 440 50. A Scenario Analysis on Strategic Budgeting and Planning 449 Epilogue: A Checklist for the Essential Department Chair 457 Index 463 TOCUpdater-Profile_26@1326755508066
See More
Daryl Guppy is a full-time private position-trader trading specializing in equities and associated derivatives markets. He is also the author of several books including Share Trading and Chart Trading. He is a regular contributor to trading magazines including Technical Analysis of Stocks and Commodities, and to web portals including Asiastockwatch. He trades from a very remote location, his home in Katherine in the Northern Territory of Australia, some 3,000 kms from the nearest Exchange. As a result he makes full use of electronic systems to actively trade Australian and overseas markets. He is a regular speaker for the Sydney Futures Exchange and conducts public trading workshops, and equity and futures brokerage sponsored seminars, throughout Australia and Asia. He provides in-house training support for fund managers, brokerage dealers and remisiers. He is retained as a consultant by several brokerages to advise on the development of Internet-based brokerage and trading services.
See More
Buy Both and Save 25%!
Market Trading Tactics: Beating the Odds Through Technical Analysis and Money Management (US $80.00)
-and- Bear Trading, 2nd Edition (US $55.00)
Total List Price: US $135.00
Discounted Price: US $101.25 (Save: US $33.75)
Cannot be combined with any other offers. Learn more.