International Commodity Trading: Physical and Derivative Markets
ISBN: 978-0-471-85210-0
272 pages
April 2001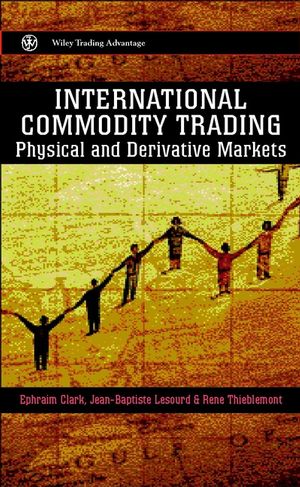 In addition to discussing financial and commodity futures and options, this book links them to the physical economy at large, a linkage which is particularly important when one is thinking of physical commodity markets. The book looks at not only the futures of derivative markets, but it also explores the physical markets and the underlying economy.
Written by leading authors in the field of commodity markets
Contains numerous up-to-date examples, case studies, and scenarios to assist in gaining an overall understanding
Covers all aspects of commodity trading, including the inter-relationship between the different functions
See More
Preface.

Foreword.

Acknowledgements.

Physical Commodity Markets: An Overview.

Commodity Futures.

Options.

Exotic Options and Other Over-the-Counter Products.

International Commodity Markets: The Management of Information.

Commodities, Market Finance, and Corporate Finance.

The Management of Physical Commodity Contracts.

The Actors of Commodity Trading.

Conclusion: International Commodity Trading--Problems and Prospects.

Index.
See More
EPHRAIM CLARK
is Professor of Finance at Middlesex University, London with extensive teaching experience in Europe and the USA. He is Founding Editor of the European Journal of Finance, Co-Editor of Treasury Affairs and Associate Editor of the International Journal of Finance. The author of four books and over 50 articles in academic and professional journals in the field of international risk management, he also has extensive experience in private business and as a consultant.
JEAN-BAPTISTE LESOURD is Research Professor in Economics, Groupe de Recherche en Economie Quantitative d'Aix-Marseille (GREQAM), Universite de la Mediterranee, France, He is also a part-time lecturer at ESSEC Business School in France. He collaborates with the University of Geneva and the University of Western Australia. He is an internationally known expert in the field of commodity markets and has published eleven books and about 30 articles in academic and specialised journals. His work has been distinguished by two academic awards. He has experience as a consultant to numerous external partners.
RÉNÉ THIÉLEMONT is Associate Professor of Management and Dean of the Faculty of Management of the Universite de Savoie, France, and a part-time lecturer to Ecole Superieure de Commerce de Nantes, France. He collaborates with the University of Geneva. He belongs to the editorial board of the IEEE Transactions on Management, a leading international journal on technological management. He is recognised as an expert in project management, project finance and commodity trading. He has published a number of papers in academic journals. He has a broad business consulting experience, mainly with financial institutions and trading companies.
See More
More in this series
Learn more about