Handbook of Infant Development, 2nd Edition
ISBN: 978-0-471-88565-8
1424 pages
May 1987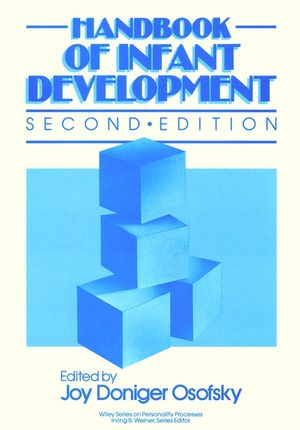 This Second Edition of the Handbook does much more than update the first edition; because the field of infancy has grown so much in recent years, and continues to grow, this volume now includes perspectives on many new issues. Covers issues such as the concept and influence of temperament, meaning of attachment relationships, continuities and discontinuities, infant mental health, media, society and child development. The Second Edition includes several European chapters, providing a review of infancy research from the Continent. Includes more clinical perspectives on infant development and discusses implications of the research for intervention and application.
See More
Visual and Auditory Development in Infancy. (R. Aslin).

Learning and Memory in Infancy (C. Collier).

Language and Communications In Infancy.

Cognitive Development: The Relevance of Piaget's Infancy Books (G. Gratch).

Psychophysiological Development in Infancy: State, Startle and Attention (W. Berg).

Cross-Modal Abilities in Human Infants (S. Rose).

Developmental Behavioral Genetics and Infancy (R. Plomin).

SOCIAL, EMOTIONAL AND INTERACTIVE PERSPECTIVES.

Theories of Social Development (M. Lewis).

Perspectives on Emotional Development I: Differential Emotions Theory of Early Emotional Development (C. Izard & C. Malatesta).

Perspectives on Emotional Development II: A Functionalist Approach to Emotions (K. Barrett & J. Campos).

Family Interaction Infancy (R. Parke & B. Tinsley).

Parent-Infant Socialization in Several Western European Countries (P. de Chateau).

Intuitive Parenting: Cross Cultural Perspectives (H. Papousek).

ASSESSMENT, METHODOLOGY AND ANALYSIS.

The Behavioral Assessment of Neonate: An Overview (P. Francis, et al.).

Neonatal Behavioral Assessment Scale (T. Brazelton, et al.).

Applying Observational Methods: A Systematic View (R. Bakeman & J. Gottman).

Analysis of Sequential Social Intervention Data: Social Intervention Data: Some Issues, Recent Developments, and Causal Inference Model (G. Sackett).

Index.
See More