Textbook
The New Strategic Management: Organization, Competition, and Competence
ISBN: 978-0-471-89953-2
326 pages
July 2003, ©2004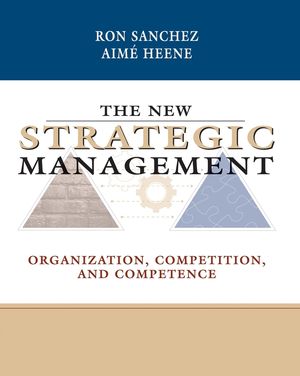 Building on the fundamental tenets of competence-based strategic management, The New Strategic Management clearly defines a new conceptual foundation for strategic thinking and action. Authors Ron Sanchez and Aime Heene offer a clear framework that incorporates the essential features of traditional strategy analysis within the dynamic, systemic, cognitive, and holistic views of organizations, competition, and cooperation that have emerged under the competence banner in the past decade.
See More
PART I. ORGANIZATION AND STRATEGIC MANAGEMENT.
Chapter 1. Organizations, Strategic Management, and Organizational Competence.
PART II. PERSPECTIVES ON ECONOMIC ORGANIZATION AND STRATEGIC MANAGEMENT.
Chapter 2. Economic Organization: Theories of Markets, Firms, and Their Interactions.
Chapter 3. Strategic Management: Improving Organizational Capabilities for Value Creation and Distribution.
PART III. THE COMPETENCE-BASED APPROACH TO STRATEGIC MANAGEMENT.
Chapter 4. Designing and Managing Organizations as Open Systems for Value Creation.
Chapter 5. The Strategic Logic of an Organization.
PART IV. BUSINESS UNIT STRATEGY.
Chapter 6. The Business Concept: Who Will be Served, with What, and How?
Chapter 7. The Organization Concept: Resources, Organization Design, and Controls and Incentives.
Chapter 8. Core Processes: Putting the Business Concept and Organization Concept into Action.
Chapter 9. Business Unit Strategy as a "Situational Puzzle": Aligning Strategic Logic with Macroenvironment, Industry, and Product Market Evolution.
Chapter 10. Managing Managerial Cognition: The Unique Intellectual Challenge of Strategic Management.
PART V. CORPORATE STRATEGY FOR MULTIPLE BUSINESS UNITS.
Chapter 11. Corporate Strategy: The Search for Synergy Among Multiple Business Units.
Chapter 12. Patterns and Limits in the Search for Synergy: The Logic of Growth Through Diversification.
PART VI. GLOBAL STRATEGY.
Chapter 13. The Search for Synergy in an International Context.
PART VII. STRATEGIC LEADERSHIP AND STEWARDSHIP.
Chapter 14. Managing Change, Risk, and Ethics.
Cases.
Index.  
See More
Ron Sanchez is professor of Strategy and Technology Management at IMD—International Institute for Management Development, Lausanne, Switzerland. He was previously on the faculties of University of Illinois (Champaign-Urbana), University of Western Australia, and Copenhagen Business School, where he will again be Visiting Professor of Management in 2003-2004. He has also taught in many countries of the world, including Argentina, China, India, Finland, Germany, Morocco, Sweden, and the United Kingdom. Professor Sanchez has degrees from MIT (Massachusetts Institute of Technology) in psychology, comparative literature, architecture, and engineering, as well as a Ph.D. in Technology Strategy. He also received an MBA (with Honors) from Saint Mary's College of California. Before becoming a management professor, he worked as a design engineer, as a technical and market development representative for a major trade association, and as founder and manager of a firm specializing in organizing joint product development projects between American and Japanese companies.
Prof. Dr. Aimé Heene holds a Ph.D. in eduational sciences and an MBA from Ghent University (Belgium). He is an associate professor at Ghent University and at Antwerp University Management School. At Ghent University he is the head of the Department of Management and Organization. Prof. Heene teaches strategic management for private and for public organizations and currently focuses his research on competence-based management in social profit organizations. He has been the vice-president of the Dutch-Flemish Academy for Management, a founding member and secretary of the Flemish Strategy Society, and a member of the advisory board of the European Foundation for Business Qualification.
See More
Integrates the wide diversity of perspectives on strategic management into one coherent framework.
Focuses on a set of well defined, carefully interrelated, and fundamental strategic management concepts.
Mini cases and full-length cases give students the opportunity to analyze strategic issues within the context of realistic business situations.
Counters the trend to 1000+ page textbooks on strategic management by focusing on the core issues and responsibilities that distinguish the tasks of strategic managers from those of operational managers.
See More
"...well presented and a useful addition to the literature on the subject." (Long Range Planning, Vol 38 2005)
See More